The Wonderfully Confusing World of Mobile Internet Usage Statistics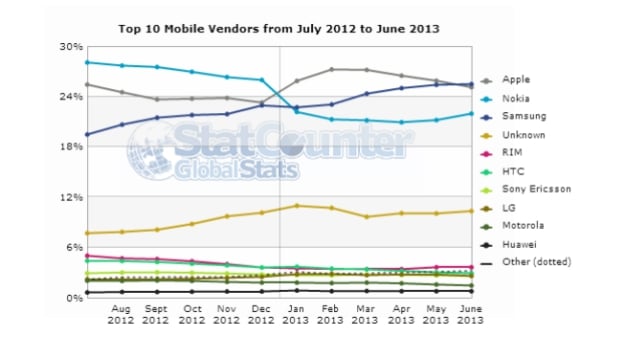 Are Samsung's (SSNLF.PK) Android-powered devices beating Apple's (NASDAQ:AAPL) iOS in global Internet web usage statistics? As it turns out, it depends whose statistics you're looking at.
Fortune's Philip Elmer-Dewitt noticed a huge discrepancy between the usage statistics cited by two different web analytics firms. In a report titled "Internet Wars," StatCounter provides data that suggests that Internet usage on Apple's mobile devices was barely edged out by usage on Samsung's devices this year.
According to StatCounter, Apple's devices accounted for 25.09 percent of global Internet usage, while Samsung's Internet usage rose to 25.47 percent. When it came to mobile operating system usage, Apple's iOS was even further behind. StatCounter found that Apple's iOS accounted for 24.98 percent of Internet usage, while Google's Android operating system claimed 29.06 percent of the total mobile browser usage between July 2012 and June 2013.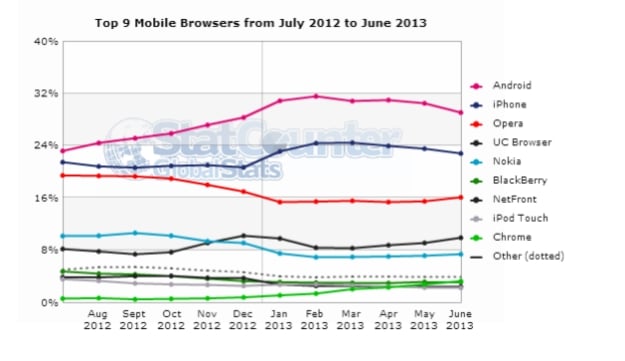 Meanwhile, web analytics firm Net Applications found that Apple's iOS accounted for 60.52 percent of the worldwide mobile Internet usage from July 2012 to June 2013. Android usage was less than half that, with a 24.63 percent share.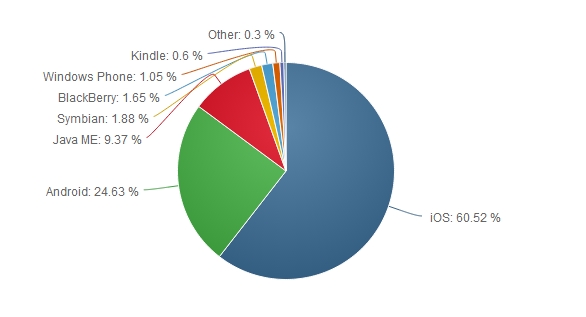 However, as Elmer-Dewitt observed, the two firms' data-sorting methodologies are as far apart as their mobile Internet usage statistics. StatCounter applies no "artificial weightings" on the Internet usage data that it derives from each country.
This means that countries with only a few mobile Internet users on Samsung devices can easily skew the statistics. This seems even more likely to occur when considering that Apple's high-end devices tend to sell better in developed markets like North America and low-end device makers like Samsung sell more devices in emerging markets that may have fewer total Internet users.
On the other hand, Net Applications alters its Internet usage data for each country based on that country's overall Internet usage. Net Applications also uses data from both tablets and smartphones, whereas StatCounter only uses smartphone data for its mobile vendor statistics. Oddly enough, for its mobile browser statistics, StatCounter only includes the iPhone and the iPod touch.
The latest information from ABI Research indicates that Apple still accounted for 50 percent of all tablet shipments in the first quarter of 2013. In this sense, it seems StatCounter's methodology is guaranteed to make Apple appear the loser in the overall mobile Internet usage market.
Follow Nathanael on Twitter (@ArnoldEtan_WSCS)
Don't Miss: Did T-Mobile Just Start the Most Attractive Upgrade Program of All?