There's a New Man in the Running to Replace Steve Ballmer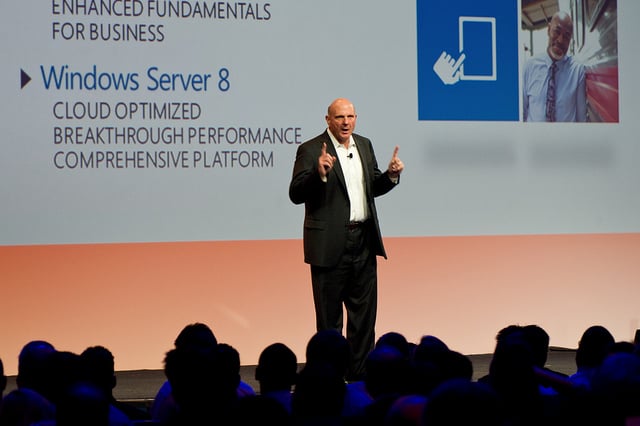 Microsoft (NASDAQ:MSFT) may be considering Qualcomm (NASDAQ:QCOM) Chief Operating Officer Steve Mollenkopf as one of the candidates to replace CEO Steve Ballmer, people familiar with the matter told Bloomberg.
It was reported last month that Microsoft executives had narrowed down their list of potential CEO candidates to five people. The sources who spoke to Bloomberg said that Microsoft's cloud and enterprise head, Satya Nadella, is still in the running as well. Ford (NYSE:F) CEO Alan Mulally has been bumped down the list due to his lack of experience in tech, although it's also worth pointing out that Mulally has said on multiple occasions that he plans to stay with Ford through 2014.
As COO at Qualcomm, Mollenkopf is second in charge of the world's largest smartphone chip maker. His experience in mobile would be useful for Microsoft, which has lagged behind its competitors in mobile computing. Mollenkopf has worked at Qualcomm since 1994 and became head of the company's chip business in 2008, Bloomberg reports.
Other candidates that have been considered as potential Ballmer replacements include Microsoft Skype head Tony Bates and Nokia (NYSE:NOK) CEO Stephen Elop, who will be returning to work at Microsoft when the company's acquisition of Nokia's smartphone unit is completed.
Recent reports have said that Microsoft would like to find a successor to Ballmer by the end of the year. Ballmer made a surprise announcement in August that he will be leaving the company in 12 months. In a revealing interview with The Wall Street Journal last month, Ballmer said that he wasn't able to make changes to Microsoft's software business fast enough and initiated a restructuring plan that employees found hard to follow.
Whoever replaces Ballmer will need to help Microsoft catch up to rivals like Google (NASDAQ:GOOG) and Apple (NASDAQ:AAPL), companies that were better prepared to take advantage of the switch to mobile.
Follow Jacqueline on Twitter @Jacqui_WSCS
Don't Miss: More Bad News From Cisco.