These 4 Stocks Dodged the Government Shutdown Drama
Shares of Google (NASDAQ:GOOG) jumped 1.3 percent on Tuesday and continued to edge higher in late afternoon hours. Google seems to have escaped a possible $5 billion fine from the European Commission over accusations that the search engine was engaging in anti-competitive behavior to maintain its dominate 80 percent of the search market in Europe. Head of the European Commission Joaquin Almunia said in a statement seen by Reuters on Tuesday that Google has offered antitrust concessions that he approves of, although he wants to give Google's competitors a chance to approve the concessions as well. "We have reached a key moment in this case," Almunia said. "Now with the significant improvements on the table, I think we have the possibility to work again."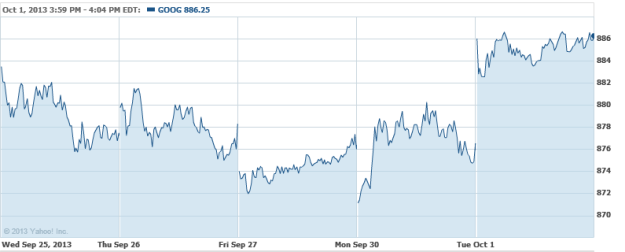 Amazon.com (NASDAQ:AMZN) shares jumped 2.7 percent on Tuesday. The world's largest online retailer announced it will hire more than 70,000 full-time seasonal jobs across Amazon's domestic fulfillment centers this holiday season. Amazon expects to eventually convert many of those seasonal opportunities into permanent roles. Though Amazon has a history of hiring seasonal workers, this year's recruitment figure especially sticks out because it reflects a 40 percent increase over last year.

Shares of Ford Motor (NYSE:F) increased almost 2 percent higher on Tuesday. Ford posted its best September sales since 2006. Domestic sales gained 6 percent year-over-year last month, marking the 11th consecutive increase. "The combination of great styling, fuel economy, and value delivered another solid monthly result for Ford in September," said Ken Czubay, vice president, U.S. Marketing, Sales and Service. "We're particularly encouraged by the strength of the Fusion and Fiesta, especially in coastal markets." Ford Fusion sales surged 62 percent from a year earlier.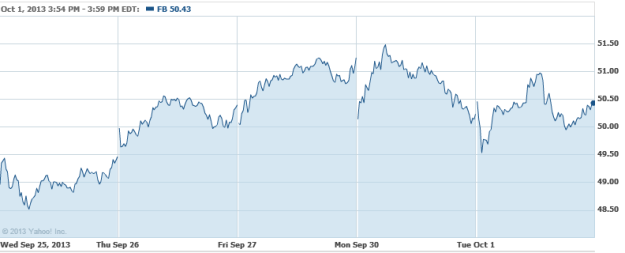 Apple (NASDAQ:AAPL) shares climbed 2.4 percent on Tuesday and continued to edge higher in late afternoon trading. Billionaire activist investor Carl Icahn let the cat out of the bag Tuesday morning, informing his Twitter followers that he had dinner with Apple CEO Tim Cook the night before, and pushed "pushed hard" for a $150 billion share buyback. Icahn also disclosed in an interview with CNBC that his total position in Apple is about $2 billion, and he will not go away until Apple hears more about his plans.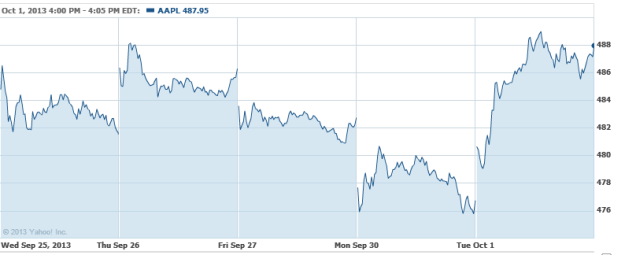 Don't Miss: Is the College Debt Bubble Getting Worse?
Follow Eric on Twitter @Mr_Eric_WSCS