These Tech Names are Making Big Moves in 2013
The technology industry is one of the most exciting areas of the financial market. Between new products and company rivalries, there never seems to be a shortage of highly debated issues. We are only a few days into the new year, but there are already notable moves being made among top tech names.
Facebook (NASDAQ:FB):
The world's largest social-media giant suffered a plunge after going public in May of last year, but has seen a recent surge in its stock price.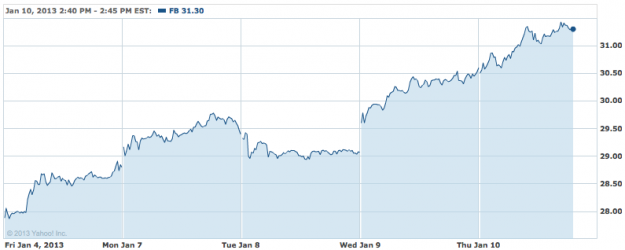 In the past two months, Facebook has jumped more than 60 percent. On Wednesday, shares broke through the $30 level for the first time in six months. The company stirred anticipation and predictions by sending out invitations for a press event next week, which simply stated, "Come and see what we're building." Despite Mark Zuckerberg denying rumors last year, some believe Facebook will unveil a smartphone, while others predict more features on the site, such as music or search.
Other companies are also on the move…
Start 2013 better than ever by saving time and making money with your Limited Time Offer for our highly-acclaimed Stock Picker Newsletter. Get our fresh Feature Stock Pick now!
Zynga (NASDAQ:ZNGA):
The social-gaming company, which receives the majority of its revenues from Facebook, logged a disastrous performance in 2012. Shares finished the year 70 percent in the red.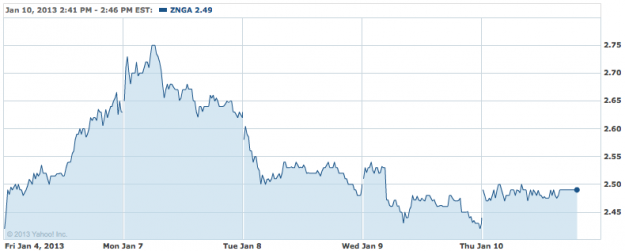 However, a new year brings new opportunities. Zynga shares have gained about 5 percent year-to-date. Sometimes a stock runs out of sellers, as Zynga was one of the most heavily shorted names in 2012.
Another social name lights up trading screens…
LinkedIn (NYSE:LNKD):
Unlike many of the other highly watched Internet names in the market, LinkedIn had a very impressive 2012, with shares increasing nearly 80 percent.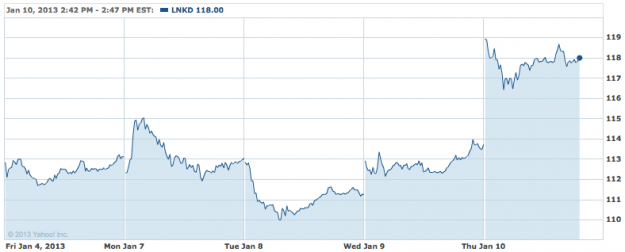 Shares had a slow start in the new year, but are quickly gaining momentum. On Wednesday, the world's largest professional network announced it reached 200 million members, with new members joining LinkedIn at a rate of two per second. LinkedIn reached 100 million members in March 2011 and has added 13 million since the beginning of November.
On Thursday, CLSA initiated coverage on LinkedIn with an Outperform rating and a price target of $133 a share. Analyst James Lee explains, "LinkedIn embodies the characteristics of a long-term winning business model: strong network effects, significant market potential, multiple revenue levers and long-term operating leverage."
This stock is surging…
Nokia (NYSE:NOK):
The smartphone company has been in decline for years thanks to more popular models being offered by Apple (NASDAQ:AAPL) and Samsung. However, Nokia shares jumped 16 percent on Thursday after announcing it shipped 4.4 million Lumia devices in the fourth quarter. The new device boosted its total smartphone shipments to 6.6 million, the first increase in a year. Year-to-date, shares are now up more than 10 percent.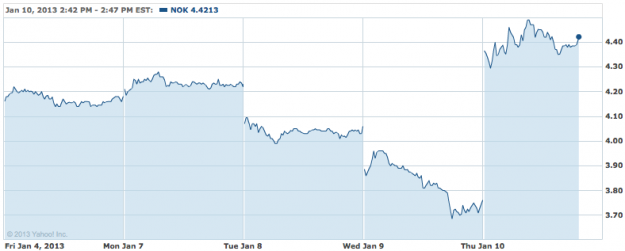 Stephen Elop, chief executive officer, explains, "We are pleased that Q4 2012 was a solid quarter where we exceeded expectations and delivered underlying profitability in Devices & Services and record underlying profitability in Nokia Siemens Networks."
This giant is also making moves…
Google (NASDAQ:GOOG):
The search engine giant gained 14 percent in 2012 and continues to show promise this year, as shares are up nearly 4 percent in the first few trading days of 2013.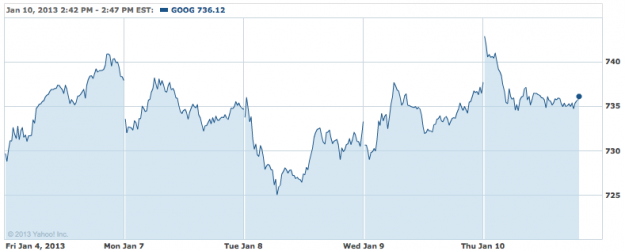 Google received positive comments from Mark Spellman earlier this week. The money manager is optimistic because the company continues to "absolutely dominate the online advertising industry" despite several predictions to the contrary. "It continues to be a terrific way to play online advertising, and the growth in that is going to be, say, 20 percent to 30 percent a year for the foreseeable future," Spellman said. "There is Google Wallet, and a lot of their other efforts, which could pan out as well."
Investor Insight: Post-Fiscal Cliff: Congress Less Favorable Than Cockroaches