This Apple Supplier Is Still Messing Up Labor Practices
Longtime Apple (NASDAQ:AAPL) supplier Foxconn is being squeezed between a rock and a hard place as the Taipei-based company tries to reduce workers' hours while simultaneously keeping up with production orders. The maker of Apple's iPad and iPhone products has been the target of scrutiny by the Washington-based Fair Labor Association ever since Apple became a member of the organization after a rash of Foxconn employee suicides in 2010.
Although the FLA says Foxconn has resolved almost all of its factory safety and worker condition problems, the Chinese manufacturer is still having difficulty meeting the July deadline for reducing workers' hours. So far Foxconn has reduced the maximum amount of weekly hours to 60. However, the company originally promised to reduce the number of weekly work hours to 40 with nine hours of overtime by July of 2013.
One of the main obstacles to achieving a reduction in the weekly number of hours a worker puts in is the seasonal nature of Apple's product cycles. Foxconn typically keeps fewer workers employed during the slower periods and then uses overtime to meet production goals when product launch dates approach.
"They have made a lot of progress, but they still have work to do," notes Auret Van Heerden, CEO of the Fair Labor Association via Bloomberg. Besides making Apple devices, Foxconn also assembles products for Microsoft (NASDAQ:MSFT) and Japanese electronics giant Sony (NYSE:SNE).
Apple closed up 1.33 percent, or $5.71, at $434.56 on Thursday. Here's how Apple has traded so far this week.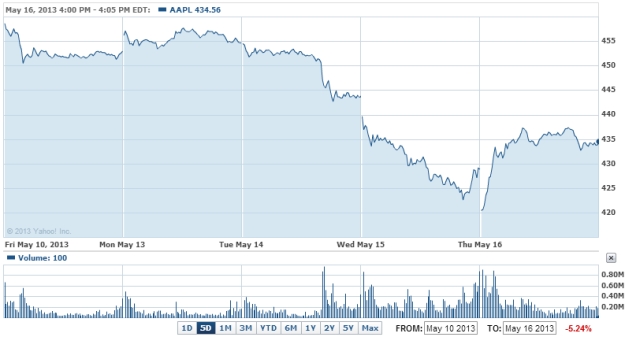 Don't Miss: Apple CEO Wants Drastic Changes in Tax Laws.