This Is Tim Cook's Strategy for Success
Tim Cook, the CEO of a company that once urged its users to "Think Different," offered some similarly free-thinking kind of advice to some college students last week. Apple (NASDAQ:AAPL) CEO Tim Cook was visiting his alma mater for a question and answer session with MBA students at Duke University's Fuqua School of Business when a student asked, "When should we listen to our professors and when is it okay to break the rules?"
After some laughter and applause from the audience, Cook took a thoughtful and serious tone and replied, "I think you should rarely follow the rules. I think you should write the rules. I think if you do follow things in a formulaic manner you will wind up, at best, being the same as everybody else."
Cook noted the formulaic strategy present in many businesses today, stating that he's "watched a lot of companies do that and I think that's a rotten strategy. Maybe they'll be good for a few months or something…I think you need to write your own rules."
However, Cook wasn't promoting total business anarchy. He noted that Duke teaches students "how to learn and how to collaborate…how to think about something and how to approach something…how to work with people that have a very different point of view and come from a different perspective." In this sense, Cook was emphasizing how an education can give you the tools to enable you to become a competent "rule-breaker." Cook graduated from Fuqua's Evening Executive MBA program in 1988.
Cook knows a little bit about breaking the rules. Despite holding a smaller portion of the worldwide smartphone market, Apple has maintained its position as the most profitable company in the world. Although most businesses typically emphasize maximizing production, Apple continues to break the rules by stressing quality over quantity.
Apple closed down 0.41 percent, or $1.85, at $449.73 on Friday. Here's how Apple has traded over the past week.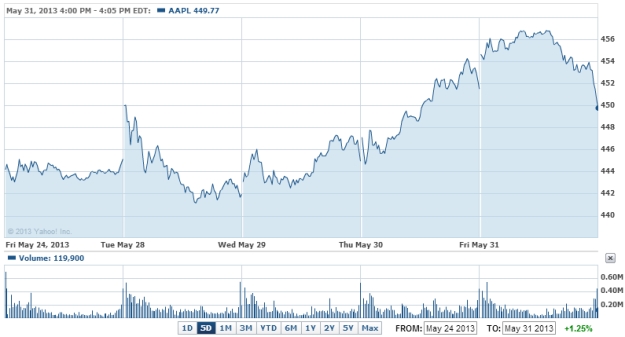 Follow Nathanael on Twitter (@ArnoldEtan_WSCS)
Don't Miss: Has Apple Figured Out This Giant Market?