This is What Apple's Job Creation Looks Like
"Throughout our history, Apple has created entirely new products — and entirely new industries — by focusing on innovation," states the iPhone maker on its website. "As a result, we've created or supported nearly 600,000 jobs for U.S. workers: from the engineer who helped invent the iPad to the delivery person who brings it to your door."
Its "Job Creation" page — which is easily accessible for anyone searching for a job at Apple (NASDAQ:AAPL) — noted that the company's iOS App Economy created 80,000 new jobs in the United States during the past year. Growth in the App store has led the company to double its payouts to developers, a figure that now totals more than $8 billion, and sparked the creation of tens of thousands of jobs stemming from software design for its mobile platform.
Last year was the first time Apple highlighted the economic impact of its iOS platform. In the intervening months, the number of jobs created by the company has grown from 514,000 to 598,500. Of its 2012 total jobs creation figure, Apple has reported that 3,250 represented new employees hired within the United States. As AppleInsider noted, the iPhone maker has not cited any job growth among its component suppliers —  which numbered 47,000 in the previous year's figures — or in transportation. The lack of growth in those areas means that the balance of new jobs created, 81,250, can be attributed to the iOS App Economy…
When a series of critiques began blaming Apple for manufacturing its products in China like every other major technology company, the company first started drawing attention to the jobs it created in the United States, noted the publication. But further reports alleged that Apple had created poor working conditions that even prompted worker suicides at its suppliers, despite the fact that some of those incidents occurred on the manufacturing lines of other companies.
The reports included a condemnatory "iEconomy" series published by The New York Times, which castigated the company "for not creating tedious manufacturing jobs in the U.S., where suicide rates are already higher than those among Chinese workers," according to AppleInsider. However, after Apple directed media attention to the jobs the iOS App Store had created in the U.S., the Times only published a dismal portrayal of a couple that had quit their jobs and used their retirement savings to write iOS apps, but failed to get rich.
This criticism begets a very important question: what kind of jobs is Apple creating? Those included in the "App Economy" jobs that Apple said iOS has created are not equivalent to its own hirings — most of which are full-time, well-paying jobs with benefits packages, even for its retail workers, according to the publication. But Apple's figures do not just list individuals who have signed up to create a developer account that enables them to post software to the App Store; the created jobs range from full-time professionals employed by third party development firms to part time hobbyists.
A survey of 252 independent iOS developers conducted by Streaming Color Studios and seen by AppleInsider discovered an important nuance in the company's created jobs. A quarter of the respondents reported making "essentially nothing," while another quarter reported earning more than $30,000. The remaining half fell between those extremes, except for about ten people who said they earned more than $1 million.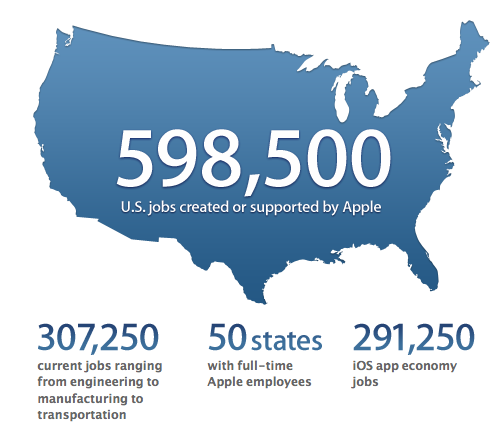 Here's how Apple's stock has traded over the past year:

Don't Miss: Can Apple Keep Meeting Its High Expectations?