This Is What's Inside Apple's iPhone 5C

Soon after Apple (NASDAQ:AAPL) released its new iPhone 5C on Friday, several tech researchers began the process of disassembling the device in order to discover the hardware behind the hype. Thanks to the researchers at iFixit, Apple fans can now get a look at the internal components of the iPhone 5C.
The iPhone 5C functions as a replacement for the iPhone 5 in Apple's product line. However, unlike the iPhone 5, the iPhone 5C features a plastic rear casing and is available in five different colors. Besides the obvious change in the construction of the rear casing, Apple also switched all the previously metal buttons and sliders with plastic components.
Not surprisingly, the researchers at iFixit discovered that the internal layout of the iPhone 5C is quite similar to the iPhone 5. Like the iPhone 5, the iPhone 5C uses Apple's A6 processor. However, the battery has been bumped up to a 3.8 V — 5.73 Wh — 1510 mAh battery. This should give users slightly more usage time than the 3.8 V — 5.45 Wh — 1440 mAh battery found in the iPhone 5.
Unfortunately for users that like to repair their own devices, the iPhone 5C uses more glue and adhesives than previous iterations of the iPhone. Apple also used especially small screws that utilize an unusual proprietary design. Both of these factors led the researchers at iFixit to downgrade the iPhone 5C's repairability grade to 6 out of 10.
On the plus side, the researchers noted that the plastic rear casing was extremely strong and resisted their efforts to bend it. However, the embedded steel frame in the iPhone 5C's casing also makes the device heavier than the iPhone 5S, despite the fact that the flagship device also includes the added weight of a sapphire-covered fingerprint scanner.
Although the researchers disliked the use of adhesives, the teardown of the iPhone 5C revealed a well-built device with many familiar quality components. Here's how Apple traded on Friday.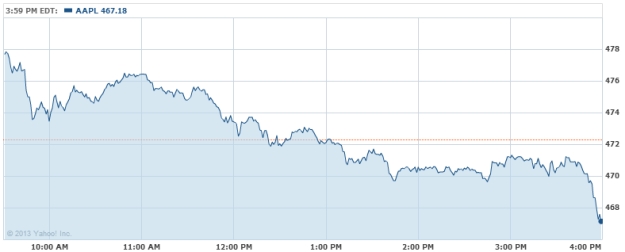 Follow Nathanael on Twitter (@ArnoldEtan_WSCS)
Don't Miss: Your Cheat Sheet to Walt Mossberg's iPhone 5S Review.