This Video of Steve Jobs Led to Invalidation of Apple's Patent
A German court recently sided with Samsung (SSNLF.PK) and Google's (NASDAQ:GOOG) Motorola Mobility and declared one of Apple's (NASDAQ:AAPL) so-called "rubber-banding" patents to be invalid based on the content of a six-year old video presentation by Steve Jobs, reports Foss Patents. Under German law, public demonstrations of an invention before the patent is filed can be used as examples of prior art when deciding whether or not to grant a patent.
The video, which was shown in open court, can be seen below. As noted by Foss Patents, the portion relevant to this case begins around the 33:00 minute mark.

Since Jobs publicly unveiled the rubber-banding feature during the original iPhone presentation five months before priority date for the German patent, his demonstration of this feature was an eligible example of prior art. It should be noted that, at the time of Jobs's presentation, European patent laws did not allow inventors any grace period before filing their patent applications.
This significant difference between European and American patent law allowed Samsung and Google's Motorola Mobility to use Jobs's own words and actions against Apple in this patent infringement hearing. However, the Federal Patent Court of Germany's ruling only applies to the validity of Apple's patent within the borders of Germany and has no bearing on the state of the patent in the U.S.
The patent in dispute covers a scrolling method on touchscreens that allows displayed photo gallery content to "bounce back" when the edge of the electronic document is reached. As noted by Foss Patents, the photo gallery patent has a narrower claim than the general rubber-banding patent.
Many of the key claims in Apple's general rubber-banding patent were actually confirmed in June by the United States Patent and Trademark Office and a court in Japan. Since Apple's claims have been reaffirmed by the USPTO and a Tokyo court, Samsung and Google's Motorola Mobility will likely lose similar cases in other jurisdictions.
Apple is currently engaged in multiple patent-infringement lawsuits with Samsung and Google's Motorola Mobility in courts around the world. Some industry watchers view these companies' legal battles as part of their competition in the overall smartphone market, rather than as legitimate efforts to gain redress for patent infringement. Here's how Apple traded on Friday.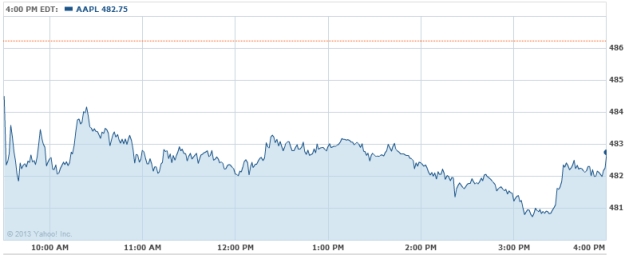 Follow Nathanael on Twitter (@ArnoldEtan_WSCS)
Don't Miss: Is Apple's Retina iPad Mini Launch on Hold?