Three Analysts Weigh in on Apple-China Mobile Deal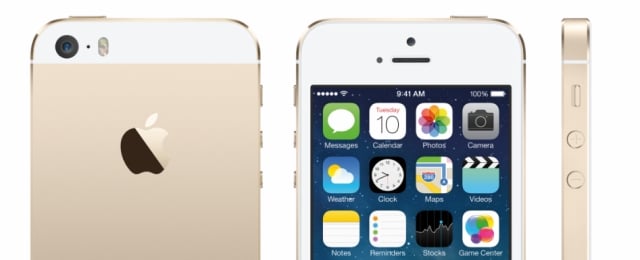 Three prominent industry analysts offered their opinions on Apple's (NASDAQ:AAPL) recently announced partnership with China Mobile (NYSE:CHL). Although White, Munster and Um all agreed that the distribution deal would benefit Apple's iPhone sales and revenue in 2014, each analyst took a slightly different perspective on how significant the impact would be. When it came to the impact on Apple's iPhone sales, Cantor Fitzgerald's Brian White had the most bullish perspective of the three analysts. White predicted that Apple's distribution deal with China Mobile would add 20 to 24 million iPhone sales in 2014, with earnings per share impact of around $4.
White supported his relatively high sales estimate by noting that the iPhone already has a "strong following" in China, including approximately 35 to 40 million unlocked iPhones that are already in use on China Mobile's 2.5G/2G network. He noted that many of these current iPhone users will likely upgrade. White also noted that China Mobile's 763.3 million subscriber base is 62 percent of China's total wireless user base of 1.23 billion and that the new distribution deal will likely attract many new iPhone users.
Finally, White pointed out that Apple's deal with China Mobile was made at an especially opportune time. The Chinese New Year begins January 31, 2014 and Apple may benefit from additional sales around this holiday. Cantor Fitzgerald has a $777 price target on Apple shares.
Piper Jaffray's Gene Munster took a more conservative perspective on the potential benefits of the Apple-China Mobile deal and decided to leave his estimates unchanged until Apple makes its next quarterly report. The Piper Jaffray analyst estimated that Apple will add 17 million iPhones through China Mobile in 2014, which could add 5 percent to consensus revenue estimates. Munster pointed out that the iPhone made up 6 percent of all smartphone sales in China during the third quarter and that his 17 million units estimate represents about 2 percent of China Mobile's total subscriber base.
Munster also predicted that Apple may see more sales by the fall of 2014 when it is expected to refresh the iPhone product line. He noted that the iPhone refresh could give the iPhone 5C "a more attractive mid-end price" after the pricing change that typically occurs when a new device is released. Wells Fargo's Maynard Um declined to estimate how many iPhone sales China Mobile would add for Apple in 2014. However, he noted that the deal gave "further confidence" to his December and March quarter estimates. The Wells Fargo analyst estimated that Apple will sell up to 54.8 million iPhones in the December quarter and 42.8 million units in the March quarter. He noted that his March quarter estimate already "implicitly includes some China Mobile units."
Although the analysts may disagree on the details, it is unanimously agreed that the China Mobile distribution deal will boost Apple's market share in China. Here's how Apple has traded over the past five sessions.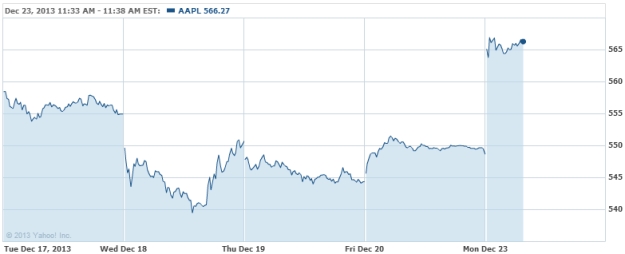 Follow Nathanael on Twitter (@ArnoldEtan_WSCS)
More from Wall St. Cheat Sheet: