Three Prominent Analysts Take a Look at Apple's December Quarter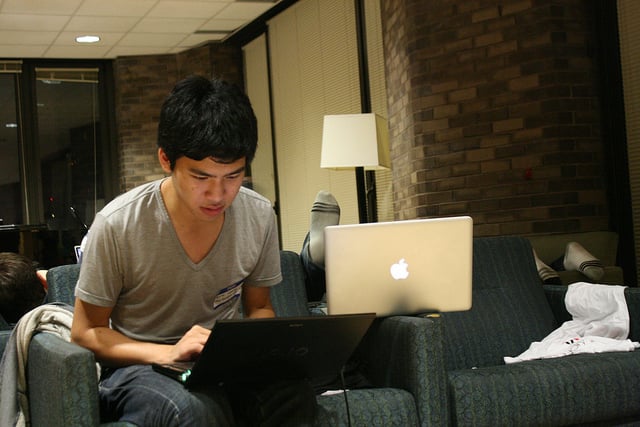 Several prominent analysts released their last-minute forecasts for Apple's (NASDAQ:AAPL) December quarter today.  The California-based company is scheduled to report its first-quarter results for fiscal year 2014 after the market closes. Apple's guidance suggested that its quarterly revenue would be between $55 billion and $58 billion with a gross margin between 36.5 percent and 37.5 percent. Here is what investors should expect from Apple's earnings results according to Cantor Fitzgerald's Brian White, Wells Fargo's Maynard Um, and Piper Jaffray's Gene Munster.
Cantor Fitzgerald analyst Brian White predicted that Apple would start fiscal 2014 "on the right foot" by beating the Street and at least meeting Cantor's revenue estimate of $58.6 billion and earnings per share projection of $14.31. As noted by White, the consensus revenue estimate for Apple's December quarter according to FactSet is $57.5 billion and EPS is estimated at $14.09.
White also expects that Apple's strong iPhone 5S and iPad Air sales in the December quarter will allow the company to at least meet his 53.5 million iPhone unit estimate, despite a weak smartphone activation growth rate at Verizon (NYSE:VZ) during the same quarter. White also believes that the strong demand for the iPhone 5S will benefit the ASP (average sales price) for Apple. The analyst sees a similar ASP benefit from Apple's iPad Air sales and he believes the company could even surpass his 24.5 million unit forecast. Finally, White noted that Apple likely sold more of the original iPad mini than it did of the iPad mini with Retina Display last quarter.
The Cantor Fitzgerald analyst also offered his predictions for Apple's March quarter. White sees China Mobile (NYSE:CHL) providing Apple with a "healthy tailwind" in the second-quarter of fiscal 2014. He predicted revenue of $47.2 billion and EPS of $11.43, versus consensus revenue estimates of $46.1 billion and EPS of $10.97. White has a "Buy" rating and a $777 price target on Apple shares.
Wells Fargo analyst Maynard Um believes Apple will meet the high end of its revenue guidance at $58 billion, but estimated a higher EPS of $14.49. The analyst predicted that Apple sold 54.8 million iPhone units and 24 million iPad units during the December quarter. Um also estimated that Apple's gross margin will hit 37.9 percent, beating the company's own guidance of 36.5 percent to 37.5 percent.
Although Um believes Apple's December results will "generally be positive," he maintains a "Market Perform" rating due to "limited material market cap upside potential" and his belief that the balance of power in the smartphone market is shifting back towards the carriers. Um also noted that Apple's March quarter guidance could be below his revenue estimate of $46.9 billion and EPS of $11.36. Instead, he believes Apple's second fiscal quarter guidance will likely be in line with the Street's estimate of $46.1 billion revenue and $10.97 EPS. Wells Fargo has a $536 to $581 valuation range on Apple shares.
Finally, Piper Jaffray analyst Gene Munster estimated that Apple will report revenue of $57.25 billion and EPS of $13.92 for the December quarter. However, Munster also surveyed twenty buy-side investors in order to derive consensus sales and EPS estimates. According to his poll, investors are looking for revenue around $58 billion, EPS of $14.35, and a gross margin of 37.5 percent. Surveyed investors also estimated iPhone sales between 56 million to 57 million and iPad sales between 24 million to 25 million. However, Munster believes most investors will be focusing on Apple's March guidance. Piper Jaffray reiterated an "Overweight" rating and a $640 price target on Apple shares.
Here's how Apple has traded over the past five sessions.
Follow Nathanael on Twitter (@ArnoldEtan_WSCS)
More From Wall St. Cheat Sheet: