Tim Cook Defends iPhone 5C, Agilent Tech Plans a Spinoff, and 3 More Hot Stocks
Apple Inc. (NASDAQ:AAPL): Tim Cook weighed in to defend the iPhone 5C's higher-than-anticipated pricing scheme, noting that Apple "never had an objective to sell a low-cost phone," he told Bloomberg Businessweek. "There's always a large junk part of the market … We're not in the junk business." However, as Google's (NASDAQ:GOOG) Android accounts for roughly 79 percent of the market (per IDC data), analysts are skeptical that the 5C's high price will help Apple win back the share it's given up.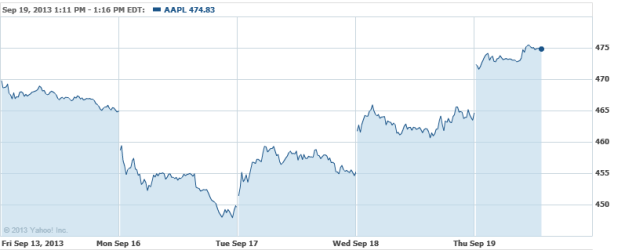 Agilent Technologies Inc. (NYSE:A): Agilent's plans to separate into two publicly traded companies has been welcomed by investors, who sent its stock up more than 5 percent. One company would be based in life sciences, diagnostics, and applied markets, and will retain the Agilent name. The other would be comprised of Agilent's current portfolio of electronic measurement products. The move is not expected to impact Agilent's 2013 guidance, and the company expects to incur onetime charges related to the transaction during the periods preceding the separation to be quantified at a later date, Seeking Alpha reports.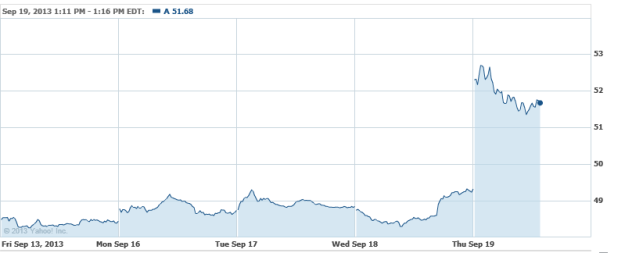 Staples Inc. (NASDAQ:SPLS): Staples and Radioshack (NYSE:RSH) intend to stop participating in the Amazon Lockers program, according to Bloomberg. The decision to enter the partnerships, which was made about a year ago and made life easier for Amazon's customers, came at a time when the online retailer was already a major competitor to both chains.

H. J. Heinz Co. (NYSE:HNZ): The acquisition of Heinz by Berkshire Hathaway and 3G Capital has brought with it hundreds of layoffs, including cuts of 11 senior executives. The layoffs are likely related to Berkshire's need to pull together the cash needed for its 9 percent dividend payout on preferred shares.

Don't Miss: Your Cheat Sheet to Walt Mossberg's iPhone 5S Review.