Tim Cook Was Right: Apple's iPhone 5S Outsold iPhone 5C
During Apple's (NASDAQ:AAPL) third quarter earnings call in July, CEO Tim Cook stated that, "I don't subscribe to the common view that the higher end if you will of the smartphone market is at its peak. I don't believe that but we will see and we will report our result as we go along."
It now appears that the Cook's prescient perspective was correct. Not only did Apple sell a record-breaking nine million new iPhones over the opening weekend, it sold more of the expensive iPhone 5S models than it did of the lower-cost iPhone 5C.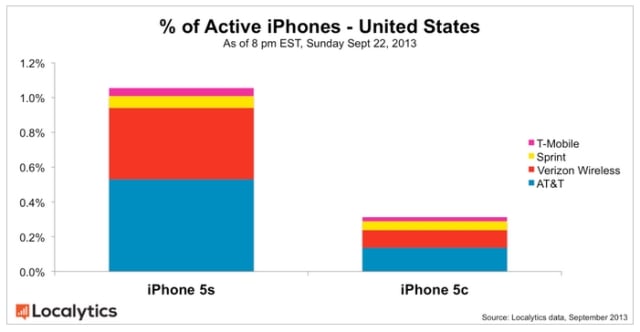 According to data from mobile app analytics firm Localytics, Apple's iPhone 5S was 3.4 times more popular than the iPhone 5C in the U.S. For this study, Localytics examined all active iPhone models from September 20 until September 22.  It found that 1.05 percent of all U.S. iPhones were the iPhone 5S models, while only 0.31 percent were iPhone 5C models.
The study also found that this trend extended internationally. The iPhone 5S was 3.7 times more popular than the iPhone 5C when data from all markets was included. Some overseas markets showed a particular propensity for the flagship device. For example, in Japan, the iPhone 5S was five times more popular than the iPhone 5C.
Although Apple's customers are clearly favoring the flagship device, Localytics marketing VP Bernd Leger also noted that early adopters "are most likely the power users who want the highest-end phone experience." In other words, the iPhone 5C may close the gap as more typical users look to upgrade their smartphones. Apple sold out of all models and colors of the new iPhone 5S device less than 48 hours after it was released. According to Apple's online stores, none of the iPhone 5S variations are expected to ship before October.
"The demand for the new iPhones has been incredible, and while we've sold out of our initial supply of iPhone 5S, stores continue to receive new iPhone shipments regularly. We appreciate everyone's patience and are working hard to build enough new iPhones for everyone," said Cook in a press release.
Here's how Apple traded on Tuesday:

Don't Miss: Mike Lazaridis: Back and Ready to Take BlackBerry Private?
Follow Nathanael on Twitter (@ArnoldEtan_WSCS)