Too Little, Too Late: BlackBerry Launches BBM for Apple's iOS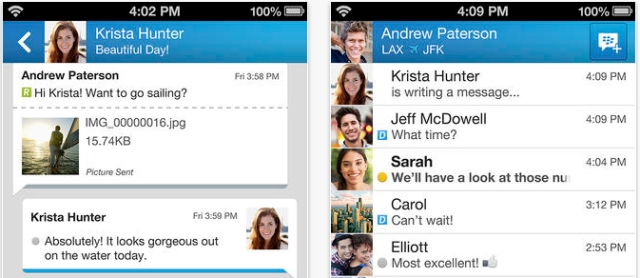 BlackBerry (NASDAQ:BBRY) announced the release of its BlackBerry Messenger app for Apple's (NASDAQ:AAPL) iOS and Google's (NASDAQ:GOOG) Android on Friday, in a move that can fairly be described as "closing the barn door after the horse has gone." BlackBerry's shares dropped over 17 percent on Friday after the company announced it was slashing its workforce by about 40 percent after sustaining quarterly losses of nearly $1 billion.
BlackBerry first announced the expansion of BBM to other smartphone platforms in May, according to the Wall Street Journal.  The move now appears to have been the struggling smartphone maker's last ditch effort to separate its popular messaging service from the rest of the company. According to unnamed sources cited by the Wall Street Journal, BlackBerry was evaluating a plan to split BBM into a separate subsidiary.
By making BlackBerry Messenger compatible on Google's Android-powered smartphones and Apple's iPhones, BlackBerry may have been hoping to position its popular messaging service as a viable alternative to other cross-platform messaging services such as Twitter and Skype. However, even an untethered BlackBerry Messenger service may not have much appeal for users now that the entire BlackBerry platform is at risk of shutting down.
"The company has sailed off a cliff. What do you expect when you announce you're up for sale? Who wants to commit to a platform that could possibly be shut down?" noted BGC Partners's analyst Colin Gillis via The Telegraph. BlackBerry once dominated the smartphone market but has seen its operating system market share shrink to 2.9 percent according to the latest data from IDC.
Although it is unlikely that the new BBM app will lure many of Apple's users away from the iOS-based iMessage service, BlackBerry remained upbeat about the timing of the app's release. "BBM is a very engaging messaging service that is simple to use and with more than a billion Android, iOS, and BlackBerry smartphones in the market, and no dominant mobile messaging platform, this is absolutely the right time to bring BBM to Android and iPhone customers," said BlackBerry executive Andrew Bocking, via The Economic Times.
Apple users can download the new BBM for iOS app for free starting Sunday, September 22. According to the iTunes BBM app page, the voice and video features are not yet available for iOS users but will be "coming soon."
Here's how Apple and BlackBerry traded on Friday.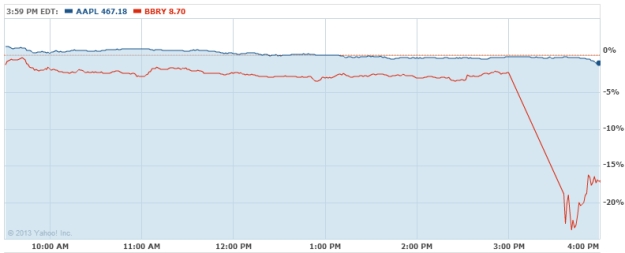 Follow Nathanael on Twitter (@ArnoldEtan_WSCS)
Don't Miss: Google Hands Wallet to Apple Users.