Trading Off the Value of Apple's Music Monopoly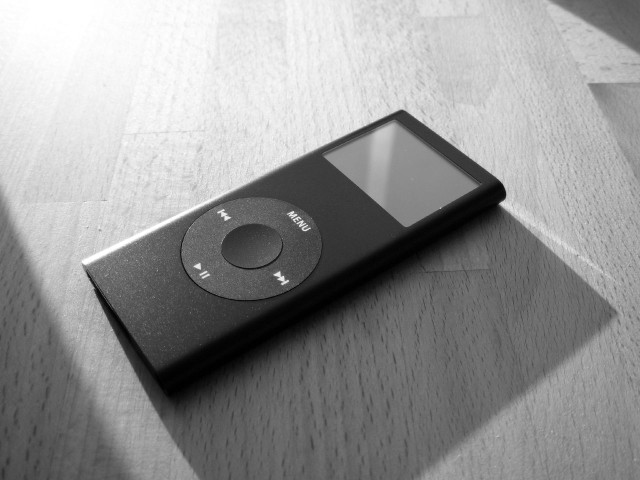 In 2001, Steve Jobs effectively resurrected Apple (NASDAQ:AAPL) with the unveiling of his blockbuster iPod and iTunes platforms. Amid the dot-com bust, Jobs assembled a then-unfathomable consortium of Silicon Valley engineers, enigmatic recording artists, and powerful music industry executives beneath one entertainment application.
Apple's technology facilitated the shift toward digital players as the preferred medium for sharing, enjoying, and even creating music. Today, Jobs' DNA is built into an ecosystem in which Apple monopolizes its role of broker-dealer between musicians and consumers. Investors can leverage the goodwill of this music monopoly to power long-term alpha returns above the S&P 500 Index.
Define Apple's share of music
Apple categorizes music sales according to "iPod" and "Other Music Related Products and Services." For its 2013 fiscal year ended September 28, Apple's exposure to music directly accounted for $20.5 billion out of $170.9 billion in total revenue. For fiscal 2013, Apple did slog through respective 25 percent and 21 percent year-over-year declines in iPod unit sales and revenue.
Year-over-year Apple iTunes, software, and services sales actually improved by 25 percent to close out the 2013 fiscal year at $16.1 billion. Popular music has remained a key driver in building out and stabilizing the Apple ecosystem.
Nominal figures may not account for Apple's cannibalization of its own product lines. The Apple iPhone is a focal point for telecommunications, Web browsing, video recording, and also music. Headphones, alongside access to iTunes software, are standard items within the iPhone package.
For 2013, Apple sold 150.2 million iPhone units, a 20 percent increase in unit sales above the prior year. The iPhone accounted for $91.3 billion in revenue, or more than half of Apple's 2013 total net sales. The iPhone is now the most financially lucrative wing of a smartphone duopoly that also includes Google (NASDAQ:GOOG) Android software.
Beyond the iPhone, iPod, and iTunes complex, the Macintosh is the preferred computer of artists, who produce music. The Mac features Apple's Garage Band program and is also highly compatible with the popular Pro Tools software for mixing music. The Mac is typically the centerpiece of any reputable disc jockey and producer set up at various high-end nightclubs and recording studios. Apple sold $21.5 billion worth of Macintosh desktop and portable computers through 2013.
Obviously, consumers are not purchasing Apple products strictly for music. Access to Apple's music ecosystem may account for 5 percent of iPhone and Macintosh sales. The Apple music portfolio may therefore have generated an estimated $26 billion in total 2013 sales. Twenty-six billion dollars in music sales would have broken down further to $10.4 billion in gross profits at Apple's consistent 40 percent gross margin rate.
At Apple, $10.4 billion worth of gross margins related to music may account for $6 billion out of $37 billion in 2013 net income. When capitalized at a 7 percent rate, Apple's music business would have then been worth $85 billion.
In terms of goodwill and branding, the value of Apple's music monopoly is far greater than the sum of its parts. Jobs' love for Bob Dylan laid the groundwork for Apple to further burnish its rebel mystique. Apple's association with the counterculture, of course, has been quite lucrative. In November, Forbes calculated $104.3 billion in value for the Apple brand alone.
The music marketplace
Apple is now the 800-pound gorilla that controls the music marketplace. Recent Nielsen data confirm that digital music stores such as iTunes are now selling more music than brick-and-mortar retailers. Within this subset of digital music, consumers prefer to purchase singles rather than entire albums. In 2013, consumers purchased 1.26 billion digital tracks and 117.6 million complete digital albums.
This consumer behavior challenges staying power for the majority of all recording artists. Rapper Eminem is the only artist who appears on top-10 sales lists for 2012 and the cumulative release-to-date sales since 1993 list.
Apple is now king maker. Billboard has often alluded to the idea that technical innovations at Apple, rather than new artists, have powered aggregate demand throughout the musical industrial complex. As such, music goes as Apple goes. In October 2012, Pandora (NYSE:P) shareholders endured a steep correction upon speculation that Apple was laying out plans to eventually enter the streaming radio business.
Within two weeks, Pandora share prices dropped from $8.20 to an all-time low of $7.08 that November. From there, Pandora stock was to rebound sharply and enter 2014 above $30. Still, the underlying Pandora business continues to lose money. Pandora has spent more money on royalty payments to record labels than it has generated in advertising revenue. Pandora, like many of Apple's competitors, has been unable to convert its user base into real profits.
Beyond Web 2.0, Apple's partnership with headphone line Beats By Dr. Dre has helped transform this niche idea into a global business. A summer 2012 deal between Dr. Dre, Jimmy Iovine, and HTC valued Beats at a mere $600 million. One year later, HTC had sold its stake back to Beats before The Wall Street Journal reported that staid private-equity firm Carlyle Group had taken out a $500 million investment for a minority stake within the headphones company.
Beats Electronics LLC is now worth more than $1 billion. Certainly, Apple Store merchandising alongside Olympic Game guerrilla marketing tactics have combined to forge yet another cultural movement in Beats. Beats by Dr. Dre headphones retail for $300 at the Apple Store and are a now a ubiquitous staple of the urban music scene.
Legendary investor Warren Buffett may describe Apple's influence above the music industry as a "moat."
Investment strategy
Apple's business model is far from breaking down. At worst, the Apple ecosystem is transitioning into the mature stage within the business cycle. Rather than investing for growth, Apple management has already announced a plan to return $100 billion to shareholders through buybacks and dividends by the end of 2015. Still, Main Street consumers may describe Apple as "cool," while Wall Street analysts laud the company's goodwill.
Similar to Nike (NYSE:NKE), long-term investors can leverage the popularity of the Apple brand to power long term-gains. Consumers will continue to clamor for each iTunes, iPhone, and iPad tablet update as they also continue to line up annually to purchase the latest Air Jordan shoe.
Apple closed out its fiscal 2013 books with $146.8 billion in cash and investments above $83.5 billion in total liabilities on the balance sheet. On a per share basis, this liquidity breaks down to roughly $70 out of Apple's current $543.93 per share market value. Last year, Apple generated $53.7 billion in cash flow from operations.
For 2013, Apple financial managers also spent a net $24 billion upon investment securities while also returning $33.4 billion in cash back to shareholders through dividends and buy backs. By all definitions, the Apple music monopoly and cultural ecosystem is a cash cow. Financial risk is largely due to the fact that the iPad and iPhone product lines accounted for more than 70 percent of total 2013 revenue.
Conservative investors may factor dollar cost average into Apple stock over the long term in order to balance risk versus rewards. Conservative investors can build out a position with weekly or even monthly investments through the second quarter of 2014 before reviewing the trajectory of Apple's business model yet again. In the future, any authorization of a special dividend may signal that executives anticipate a slowdown in bottom-line growth. Ironically, Apple may then transform into the Web 2.0 version of Microsoft (NASDAQ:MSFT).
Don't Miss: Apple-Funded IP Company Sells Suite of Patents to Spherix.