Trouble? iPhone Sales Are Slipping in China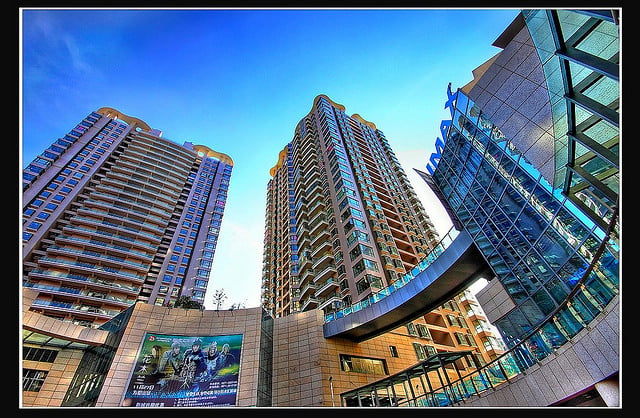 A recent report from a Beijing-based analyst indicates that Apple's (NASDAQ:AAPL) second-quarter iPhone sales have unexpectedly declined.  According to Wedge Partners analyst Jun Zhang, Apple's sales of the iPhone 5 and iPhone 4S have fallen to 10,000-12,000 units a day. This is a 70 percent quarter-on-quarter decline since Apple typically sold 35,000 units a day in the first quarter of this year.
The bad news out of China comes on the heels of a recent Canaccord Genuity report that found that Samsung's (SSNLF.PK) Galaxy S4 outsold the iPhone 5 in the U.S. last month. The Galaxy S4's top-selling position in May was a recent change from April when Apple's iPhone 5 was the top-seller at all four major carriers in the U.S.
Zhang attributes some of the iPhone sales decline in China to retailers and carriers that have recently reduced subsidies on the iPhone 5 from around 47-50 percent to 37 percent. "We believe the focus of Chinese operators' subsidies have largely switched to Samsung Galaxy S4," states Zhang via Investor's Business Daily.
Since Samsung released its Galaxy S4 device in China, it has seen the sales of all its high-end smartphones increase from approximately 10,000 units a day to 35,000-36,000 units a day. Samsung's high-end devices include the Galaxy S3, Galaxy Note 2, and Galaxy S3 mini.
Despite Samsung's increased sales, Zhang believes the Korea-based company has fallen short of its own expectations. "Overall, we think S4 sales have been roughly 20 percent short of Samsung's target. As a result, we think Samsung might have adjusted their S4 production plans downward recently, from a former expectation of 30 million units in June-July to 20 million units," states Zhang via Barron's.
Despite Apple's recent dip in iPhone sales, the Cupertino-based company will likely regain its usual level of sales when it launches the next iteration of its flagship smartphone. Many commentators and analysts are expecting Apple to launch the iPhone 5S in September.
Apple may also soon receive a sales lift from any new products or services that it unveils at its upcoming Worldwide Developers Conference that is less than a week away.  This year's WWDC kicks off on Monday, June 10 and runs through Friday, June 14. Apple closed down 1.49 percent, or $6.65, at $438.46 today. Here's how Apple has been trading so far this week.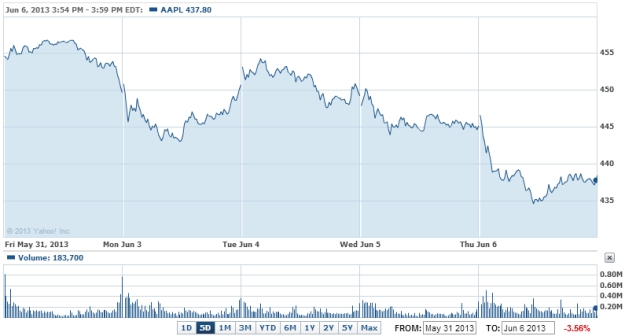 Follow Nathanael on Twitter (@ArnoldEtan_WSCS)
Don't Miss: Apple Will Pay for Your Old iPhone.