Tweets Confirm It Was 'An iPad Christmas' for Apple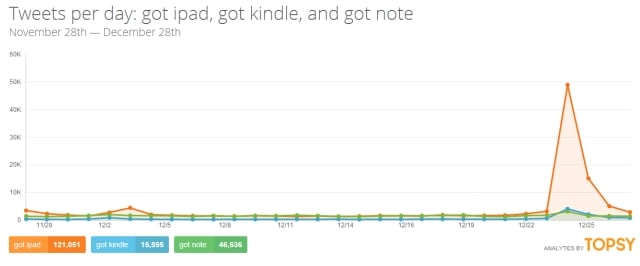 During Apple's (NASDAQ:AAPL) recent fiscal fourth quarter earnings call, CEO Tim Cook boldly predicted that, "it's going to be an iPad Christmas." Data from social search and analytics company Topsy suggests that Cook's holiday prediction may have come true.
Fortune's Philip Elmer-Dewitt recently compiled tweet metrics for the four major tablet brands using Topsy Analytics' Twitter (NYSE:TWTR) search engine function. Elmer-Dewitt searched the phrases "got iPad," "got Kindle," "got Note," and "got Surface" in order to gauge the popularity of each tablet model from Apple, Amazon (NASDAQ:AMZN), Samsung (SSNLF.PK), and Microsoft (NASDAQ:MSFT) on Christmas Day.
Apple's iPad emerged as the clear winner for the number of times that the phrase "got iPad" was tweeted around the Christmas holiday compared to the other tablets. According to Topsy, the phrase "got iPad" came up 121,051 times between November 28 and December 28, over 2.5 times more often than the second-highest mentioned "got Note" phrase. The phrase "got Note" was tweeted a total of 46,636 times, "got Kindle" was tweeted 15,595 times, and "got Surface" was only tweeted 4,182 times.
However, Apple really blew away the competition on the days immediately preceding and following Christmas Day. Mentions of the "got iPad" phrase peaked on December 24 with 48,921 tweets. Interestingly, the number of "got iPad" tweets dropped to around 15,000 on Christmas Day and slipped to about 5,000 the day after Christmas.
Besides supporting Cook's prescient prediction, Topsy Analytics' data also appears to be in line with research done by market research firm Parks Associates before the holiday shopping season. According to Parks Associates' research, Apple was the top consumer electronics brand of choice in seven key categories of products, including tablets.
On the other hand, recently released data from app analytics firm Flurry showed that Amazon and Acer recorded larger increases in Christmas Day device activations than Apple or Samsung did. Apple saw 2.3 times the normal number of mobile device activations on Christmas Day, while Amazon recorded an astonishing 24 times its normal number of device activations. However, Flurry also noted that Apple and Samsung already have a high baseline level of activations、 which makes it harder for them to ratchet up the kind of increases that Amazon saw on Christmas Day.
Although Topsy's Twitter metrics do not prove that Apple's iPad outsold its competitors over the holiday shopping season, it certainly seems to indicate that people were discussing Apple's tablet more than any other device. Here's how Apple traded on Friday.

Follow Nathanael on Twitter (@ArnoldEtan_WSCS)
More from Wall St. Cheat Sheet: