Twitter IPO, Intel Layoffs, Apple's Japan Deal: Market Recap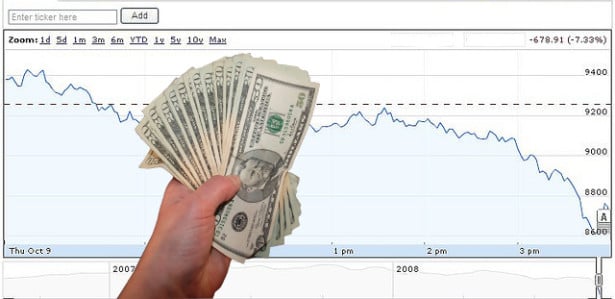 U.S. stocks rose Friday as poor economic data had investors hopeful that the Fed's stimulus cuts won't be very aggressive. The Federal Reserve is set to meet next week to discuss the tapering of stimulus, which Chairman Ben Bernanke has said the central bank will only do if the U.S. economy is ready. Reports on retail sales and consumer sentiment from August showed that the economic recovery is still going very slowly.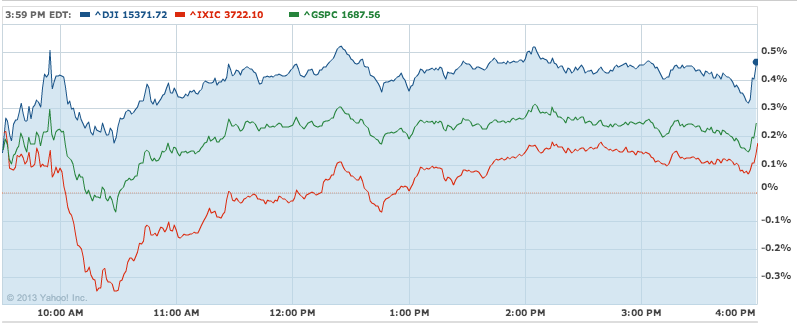 Gold: -0.29% $1,360.10 per ounce; Oil: -0.07% to $107.31 per barrel; U.S. 10-Year: -0.31 to 2.898%.
Inflation Expectations Hold Steady As Producer Prices Flounder: The U.S. Bureau of Labor Statistics reported Friday that its producer price index for finished goods climbed a seasonally adjusted 0.3 percent on the month in August, ahead of expectations for an increase of 0.2 percent. Headline produce prices are up 1.4 percent on the year… (Read more.)
Are Car Sales the Only Driver of Retail Sales Growth? While pent-up demand for big-ticket items like homes and automobiles have helped strengthen the housing market and given a small boost to monthly retail sales figures for much of the year, as long as the labor market improves only modestly and growth in incomes and wages remains relatively stagnant — as it has since the end of the recession — many American consumers will continue to be in a difficult position… (Read more.)
Gold Logs Worst Week Since June: On Friday, gold (NYSEARCA:GLD) futures for December — the most active contract — dropped $22 to close at $1,308.60 per ounce, while silver (NYSEARCA:SLV) futures fell 43 cents to finish at $21.72. Gold declined nearly 5 percent in only five trading days and posted its worst week since June… (Read more.)
Here's your cheat sheet to Friday's top stocks stories.
Apple (NASDAQ:AAPL) recently announced that it reached a distribution deal with NTT DoCoMo (NYSE:DCM), but the Cupertino, California-based company did not reveal many details beyond a September 20 launch date. However, a recent report from Japan's Nikkei newspaper via Apple Insider claims that Apple's deal with DoCoMo requires that at least 40 percent of the carrier's overall handset sales consist of iPhones… (Read more.)
Intel (NASDAQ:INTC) workers in Hudson, Massachusetts, aren't happy, because the chip manufacturer announced Thursday that it is closing its only factory in the state, resulting in the loss of 700 high-paying manufacturing jobs. Workers will be offered a severance package and will receive assistance finding new jobs… (Read more.)
Safeway Inc. (NYSE:SWY) shares closed up more than 6 percent after Citigroup improved its rating on the company by two notches, to Outperform, and raised its price target to $34 from $26 on Friday. Analyst Edward Kelly thinks the company can reduce its share count by more than 40 percent in the coming months, using the proceeds from the sale of its Canadian business and the BlackHawk Network split.
United Continental (NYSE:UAL) and JetBlue (NASDAQ:JBLU) both suffered from computer glitches Friday morning. United's website mistakenly allowed customers to book cross-country flights for less than $10, and JetBlue experienced a computer system failure that will delay flights throughout the day… (Read more.)
Dunkin' Brands Group (NASDAQ:DNKN) didn't have the greatest success when it launched in the U.K. back in the 1990s, but now, thanks to significant international progress with some of London's neighbors, the company is ready to try again with the British… (Read more.)
Twitter's IPO has taken the spotlight. On Thursday, the social media platform announced via a tweet that it filed an S-1 document with the U.S. Securities and Exchange Commission. Because Twitter currently earns less than $1 billion in revenue, it is allowed to file for its IPO confidentially, and the fact that it earns less than $1 billion was confirmed by its ability to file this way… (Read more.)
Don't Miss: Top 10 Career Fields to Boost Your Retirement Chances.
Follow Jacqueline on Twitter @Jacqui_WSCS