Two-Thirds of Retina iPad Mini Demand May Be Unmet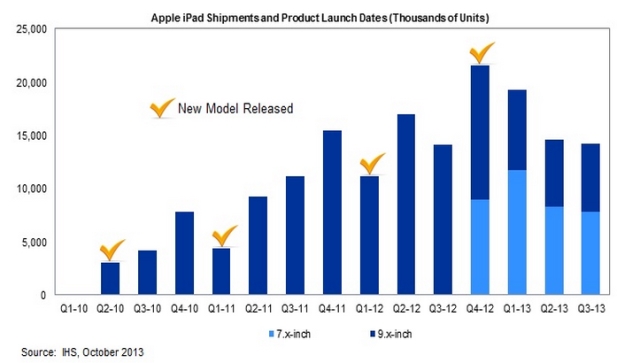 Two out of every three shoppers looking for an iPad mini with Retina display this holiday shopping season may be left empty-handed. According to "current supply data" cited by market research firm IHS iSuppli, Apple (NASDAQ:AAPL) may ship less than 3 million Retina iPad mini units in the fourth quarter. As seen in the graph above, this is approximately one-third the amount of first-generation iPad mini units that were shipped in the fourth quarter of 2012.
Assuming that demand for the iPad mini with Retina display will be as strong as demand for the original model was, it appears that many Apple fans will be left wanting in the next several months. Consumer demand this year may even surpass last year's shipment numbers. IHS iSuppli noted that consumer demand for the first-generation iPad mini actually exceeded the 8.9 million units that were shipped in the December quarter last year.
"Apple is being rather vague about the exact availability date of the new iPad mini with Retina Display, simply stating that the product would ship later in November," wrote IHS tablet research director Rhoda Alexander. "The company has good reason to be coy about the exact release date, given that supply of the new mini is going to be ridiculously tight in the fourth quarter. The heart of the problem is supply constraints on the new Retina panel."
The limited supply of Retina iPad minis raises questions about why Apple didn't choose to push the launch of the second-generation iPad mini into next year. "With supply of the new Retina mini estimated to come in at one-third or less of Apple's mini unit shipments in the fourth quarter of 2012, it's curious that Apple elected to include the product at the same time as the iPad Air," noted Alexander.
However, Apple may have felt pressured to quickly release a Retina iPad mini due to the growing number of small, high-definition tablets being put on the market by its rivals. Google (NASDAQ:GOOG) released the Nexus 7 tablet with a high-definition display in July, while LG announced the G Pad 8.3 with a similarly high resolution display in late August. Apple may have felt that any problems arising from supply issues were outweighed by the risk of losing small tablet sales to competitors.
Apple's iPad mini with Retina display was unveiled at a media event on October 22. The second-generation iPad mini includes a 64-bit A7 processor and a Retina display with a 2048 x 1536 resolution. According to Apple, the "iPad mini with Retina display will be available later in November in silver or space gray." Here's how Apple traded last week.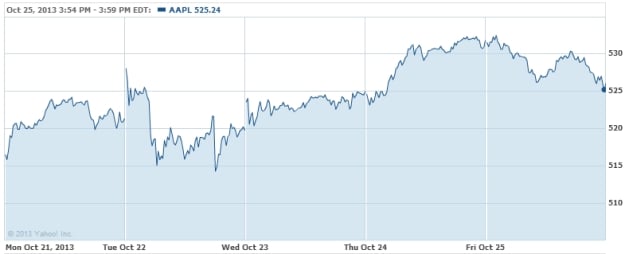 Follow Nathanael on Twitter (@ArnoldEtan_WSCS)
Don't Miss: Upcoming Apple and Facebook Earnings Reports Eclipse Fed Meeting.