U.S. Judge Orders Ex-Morgan Staney Adviser to Return Data and 2 Heavily Traded Stocks to Follow
Morgan Stanley (NYSE:MS): Current price $29.31
Judge Vanessa L. Bryant of the United States District Court for the District of Connecticut has ordered Denis O'Brien, a former Morgan Stanley financial adviser, to return client information to the company and disallowed him from soliciting his prior clients, as he subverted the firm's capacity to reach those clients. O'Brien worked at Morgan Stanley for nine years prior to his sudden exit for Raymond James Financial on October 25, and according to the ruling, changed 206 client telephone numbers in the Morgan Stanley contact management system before he left, causing "irreparable harm" to the firm.

BlackBerry Ltd. (NASDAQ:BBRY): Current price $
Knowledgeable persons said Friday that BlackBerry's board does not believe that a break-up of the firm is currently in its best interests, despite Microsoft Corp. (NASDAQ:MSFT), Apple Inc. (NASDAQ:AAPL), and Lenovo Group Ltd., among others showing interest in purchasing parts of the firm. The board turned aside proposals from a number of tech firms for various BlackBerry assets, because a break-up would not serve the interest of all stakeholders, which include employees, customers, and vendors, along with shareholders, said the sources.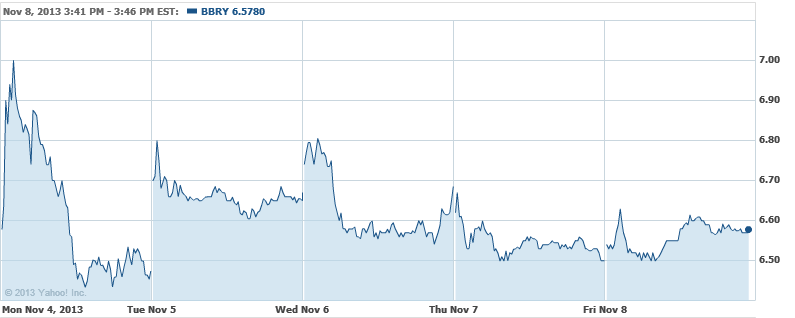 Arena Pharmaceuticals Inc. (NASDAQ:ARNA): Current price $4.83
Arena shares are up by almost 19 percent Friday, after the firm said that it expanded its marketing accord with Eisai Co., its partner on the weight loss drug Belviq. Arena said that it will receive a $60-million upfront payment, and could obtain another $176.5 million from Eisai based on development and regulatory milestones. The Japanese company now holds worldwide rights to market Belviq in all nations except Australia, South Korea, Taiwan, New Zealand, and Israel. Arena will also continue to sell Belviq to Eisai for marketing.

Don't Miss: Apple Barometer Is Through the Roof Before the Holidays.