Upcoming Apple and Facebook Earnings Reports Eclipse Fed Meeting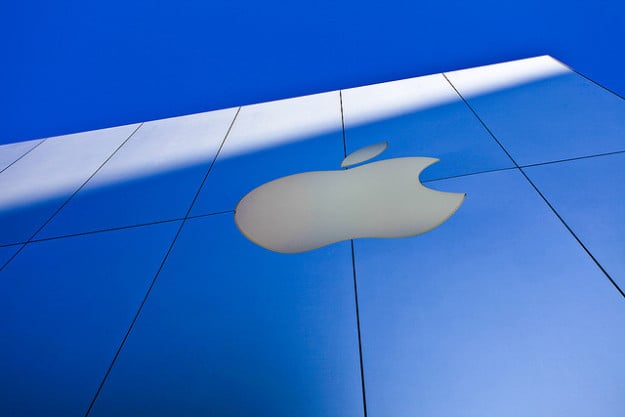 Although the Federal Reserve's October meeting is right around the corner, it doesn't appear to be attracting the usual high levels of attention from investors, reports Reuters. That's because many investors are focusing their attention instead on upcoming earnings reports from several tech powerhouses.
Many tech companies have seen recent stock gains after the Fed declined to reduce monthly bond purchases at its September meeting. Facebook (NASDAQ:FB) closed at $51.95 on Friday, not far from its all-time record. Although Apple (NASDAQ:AAPL) has yet to return to the $705.07 record-high that it hit in September last year, it has also made recent gains and closed out last week at $525.24.
Last week Microsoft's (NASDAQ:MSFT) September-quarter earnings report beat analysts' revenue and EPS expectations, while Amazon's (NASDAQ:AMZN) report met EPS expectations and beat revenue expectations. Both companies helped the S&P set a record-high of 1,759.79 at Friday's close. Since it is widely believed that the Fed will decide to maintain its present course at its upcoming meeting, there is nothing to distract investors from keeping a close watch on the unfolding earnings season.
Now that Microsoft and Amazon have reported their third-quarter results, investors are turning their attention to upcoming earnings reports from Apple and Facebook. "These are big names that people like to look at and they create a feeling about the market," noted Synovus Trust vice president and senior portfolio manager Daniel Morgan via Reuters.
Soon after Apple announced that it had sold a record-breaking nine million new iPhone 5S and iPhone 5C units in the opening weekend, the company offered a revised earnings guidance for the September quarter. "Apple expects total company revenue for the fourth fiscal quarter to be near the high end of the previously provided range of $34 billion to $37 billion, and expects gross margin to be near the high end of the previously provided range of 36 percent to 37 percent," noted the iPhone maker in its 8-K form. Wall Street's current consensus expectation for Apple's quarterly earnings also falls within this range at $36.809 billion revenue and $7.88 EPS.
Facebook may be facing higher expectations. The social networking company has seen its stock rise by over 52 percent over the past three months thanks to its growing mobile Internet ad revenue. Analyst consensus expectations are for $1.91 billion and adjusted EPS of 18 cents.
According to Reuters, many Wall Street analysts are officially predicting that Facebook's ad revenue for the September quarter will be between $760 million and $840 million. However, private expectations may be even higher. "What I've been telling folks is that, in general, $850 million-plus is the number that's needed, maybe even $900 million-plus," said Macquarie Research analyst Ben Schachter.
Apple is expected to report its September quarter earnings after the market closes on Monday, while Facebook will report its earnings on Wednesday. Here's how Apple traded last week.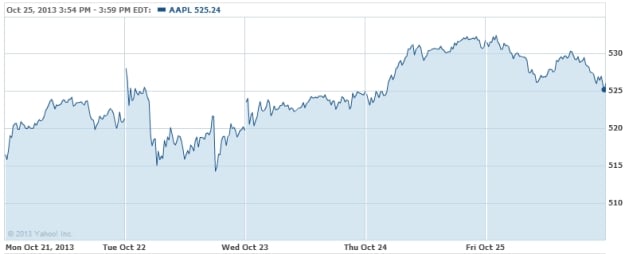 Follow Nathanael on Twitter (@ArnoldEtan_WSCS)
Don't Miss: The iPad Is the Web-Traffic Winner, Competitors Get Scraps.