Verizon Named Fastest 4G Network, Will Shares Respond?
Over the past three months, shares of Verizon (NYSE:VZ) have outperformed competitors AT&T (NYSE:T) and Sprint (NYSE:S).  A report by RootMetrics may provide a catalyst to keep the momentum in Verizon going strong.
On Wednesday, RootMetrics, which is a company that conducts its own field tests of wireless networks, announced that Verizon offers the fastest 4G mobile-data network by a landslide.  In a recent study, RootMetrics compared 4G networks from the four major US carriers across 27 different cities.  The report said, "In cities where we could test Verizon's LTE (network), their average download speeds were roughly equivalent with the other carriers' maximum download speeds.  In several markets, Verizon's average download speeds actually exceeded the maximum speeds of the other carriers."
Don't Miss: AT&T Uses Job Creation Rhetoric to Help Push Through Merger.
When looking at other carriers, they mostly offered similar performances to one another, but all trailed behind Verizon.  The report explains, "AT&T (NYSE:T) and T-Mobile were especially close: AT&T offered 4G speed in 40.7% of our tests, while T-Mobile recorded 4G speed in 39.5% of our tests."  In comparison, Verizon operated at 4G speed in 66% of tests.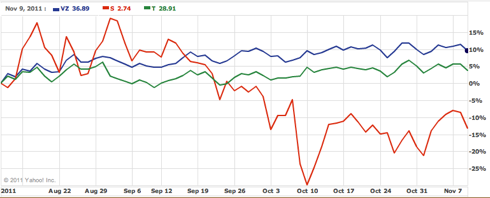 As the chart above shows, Verizon shares have increased nearly 10% in the past three months.  Shares of AT&T have increased about 3%, while Sprint has fallen 11%.  With all three carriers selling Apple's (NASDAQ:AAPL) new iPhone 4S, it will become increasingly important for the carriers to differentiate themselves — especially since everyone offers Google (NASDAQ:GOOG) Android based phones.
In an effort to stand out against AT&T (NYSE:T) and Sprint (NYSE:S) this holiday-season, Verizon is doubling the size of its smartphone data plans.  Bloomberg reports, "The largest US wireless operator, co-owned by Verizon Communications and Vodafone Group Plc, this week bumped up the amount of data it includes with smartphone plans to 4 gigabytes from 2 gigabytes for $30 a month, for example. The offer is drawing customers to the company's higher-speed Long- Term Evolution, or LTE, network and reducing the need for capital investments in third-generation, or 3G, technology."  With the holiday shopping season, the fourth quarter is typically the industry's best quarter.  Verizon's fast 4G network and increased data plans have the potential to keep shares outperforming the competition.  Today, shares are jumping 1.4% higher.
Don't Miss: Nintendo and Sony Will Lose Gaming Revenue to These 2 Smartphone Giants.