Verizon's Rethinking Canada, Apple Inching Towards China Mobile Deal: Market Recap
U.S. stocks fell today with the S&P 500 having its worst week since June as Treasuries slumped and 10-year yields reached two-year highs. Data released today showed that housing starts increased 5.9 percent but consumer confidence fell this month. Also of concern is qualitative easing with 65 percent of economists surveyed by Bloomberg saying they believe the Federal Reserve will start tapering stimulus in the next month.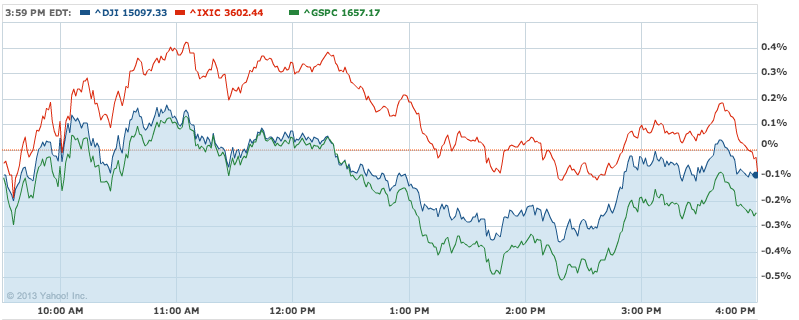 Gold: +0.87% to $1,372.80 per ounce Oil: +0.17% to $107.51 per barrel U.S. 10-Year: +2.69 to 2.829%
Labor Productivity Edges Higher as Economy Heals: Non-farm business sector labor productivity increased at a seasonally adjusted annual rate of 0.9 percent in the second quarter, according to preliminary estimates from the U.S. Bureau of Labor Statistics released Friday. This is the function of a 2.6 percent increase in output and a 1.7 percent increase in hours worked during the second quarter compared to the first quarter.
Regulatory Realities: EU Banks to Use Common Metrics for Stress Tests: Financial regulations are all the rage in the political world right now and Europe is going through its fair share as it prepares for banks to undergo stress tests and asset quality reviews in the coming months, Reuters reports.
Exports in EU Gain Steam Despite Lingering Threats: The European Union is trying to look strong as some signs of manufacturing life as exports are slowly gaining across the stronger countries in the bloc. The news comes as a pleasant surprise at a time when a slowdown in China has fears running rampant that a continued tempering of the once-booming expansion in the communist country could have European industry poised to suffer.
Here's your cheat sheet to today's top stocks stories: 
Verizon Communications (NYSE:VZ) may be rethinking its entry into the Canadian wireless market,The Globe and Mail reported on Thursday. Sources told the newspaper Verizon has decided to wait until a Canadian airwave auction of 700 megahertz scheduled for January before pursuing a purchase of smaller Canadian wireless companies Wind Mobile and Mobilicity.
Boeing (NYSE:BA) is breathing a sign of relief as it was found the wiring issues discovered by ANA Holdings (ALNPF.PK) earlier this week were caused by improper assembly at a supplier's factory.  A company spokeswoman told the Wall Street Journal that activating the 787′s engine fire-extinguishing system "does not disable or impact [the engine's] performance."
Apple (NASDAQ:AAPL) could be closing in on a deal with China Mobile (NYSE:CHL) to allow the Chinese wireless giant to carry the iPhone, Forbes is reporting. The timing couldn't seem to be better for Apple, which is nearing a potential launch of its cheaper and more lean version of the iPhone and needs a competitive edge in emerging markets.
BlackBerry (NASDAQ:BBRY) CEO Thorsten Heins will make $55.6 million if the struggling smartphone maker is taken private and he is pushed out of the company, Bloomberg reports. That figure is based on BlackBerry's stock price at the end of its fiscal fourth quarter, according to a May proxy filing dug up by Bloomberg. The motion was approved by BlackBerry shareholders at a meeting on July 9.
General Motors (NYSE:GM) stock is being sold off by the government, which took a 61 percent stake in the company after it funded GM's bailout. Now, in its July report to Congress, the Treasury reported that it received net proceeds of about $877 million in July, which follows a sale of about $2 billion in June.
Follow Jacqueline on Twitter @Jacqui_WSCS