Volkswagen's Beetle is Getting iPhone-Friendly
Apple (NASDAQ:AAPL) aficionados will soon be able to enjoy their Apple products in the ultimate content delivery device: a car. Besides functioning as a personal transportation device, most cars also function as movable media consumption devices equipped with everything from phones to music players.
Volkswagen has taken the next logical step by integrating an iPhone docking station with a connected iOS app into the next model of the iconic Beetle, reports Stephanie Mlot at PC Mag. Naturally the fahrvergnügen-generating offspring of Apple and Volkswagen will be named the iBeetle.
The iBeetle will feature an iPhone docking station built into the dashboard. However, it linkremains to be seen which generation of plug the docking station will employ. Users will be able to  their Apple device to the iBeetle with a custom Beetle app that will offer specific car-related services.
One app mode called "Expert" converts your iPhone into a virtual automobile instrument panel with a chronometer, oil gauge, temperature gauge, and a compass. Another app mode dubbed "Trainer" gives the user "comparative data on driving times, distances, and fuel economy values" according to PC Mag.
Via PC Mag, a Volkswagen spokesperson also said that the iBeetle may feature an "in-car Wi-Fi in addition to app mobile based connectivity." However, the spokesperson also said that the Wi-Fi feature was "not yet confirmed."
According to PC Mag, Volkswagen even has plans to adjust the color and style of the iBeetle to better match Apple's brand. The iBeetle will debut in 2014 and will be available in the convertible and coupe models.
Interestingly, Steve Jobs always wanted to build an Apple iCar and never made a secret of his ambition to take on Detroit, even discussing the project with other Apple board members shortly before his death on Oct. 5, 2011.
Here's how Apple traded throughout the week.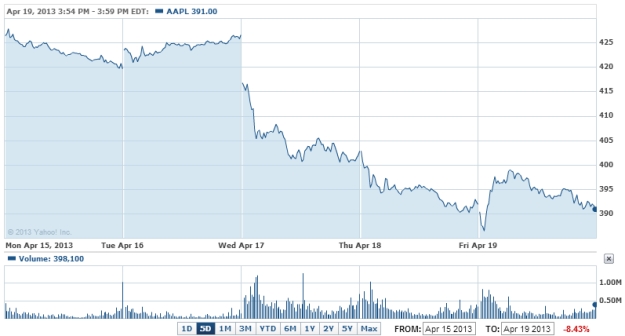 Don't Miss: For Apple, Good is Not Good Enough.