Wal-Mart vs. Amazon: The Battle Continues
The peak of the holiday shopping season is still weeks away, but major retailers are already taking aim at each other. In an effort to build a stronger e-commerce presence, the world's largest retailer is testing same-day delivery in select cities for orders placed online.
Wal-Mart (NYSE:WMT), which operates more than 4,000 stores in the United States, is rolling out a new program called Wal-Mart To Go in a trial run for the holidays. The service costs $10 per order, regardless of size, and promises same-day shipping for orders placed by noon. Wal-Mart is currently testing the new offering in Philadelphia, Northern Virginia and Minneapolis. Later this month, Wal-Mart To Go will be added to San Francisco and San Jose.
The pilot program does not have an estimated end-date, but it is already being seen as a direct shot across the bow of Amazon.com (NASDAQ:AMZN), the world's largest Internet retailer. However, Amazon has a large head start since it launched same-day shipping in 10 cities back in 2009. Furthermore, it has a large network of very efficient distribution centers. Instead, Wal-Mart will be shipping goods from its actual stores in the areas of the Wal-Mart To Go program. Exact details are still unknown about selecting and packaging of the 5,000 items eligible for the program, but United Parcel Service (NYSE:UPS) will pick up the orders and deliver them to customers.
The method of shipping from stores rather than distribution centers has some analysts worried about expenses, especially since Wal-Mart already operates on very thin margins. "It can be three to four times the cost for the retailer to pick items and pack them from a store versus having a really efficient, automated process back in a distribution center," said Al Sambar, a retail strategist at consulting firm Kurt Salmon, according to the WSJ. On the other hand though, Wal-Mart is not a newbie to transporting goods and building a successful retail network. "It's setting up to be an interesting ballgame between Amazon and Wal-Mart," says Wells Fargo (NYSE:WFC) analyst Matt Nemer.
Catalysts are critical to discovering winning stocks. Check out our newest CHEAT SHEET stock picks now.
Wal-Mart has slowly been making changes to its online business. As the Wall Street Journal notes, the company "employs 1,000 workers in San Bruno, Calif., down the street from YouTube's (NASDAQ:GOOG) offices and far removed from the retailer's headquarters in Bentonville, Arkansas. The retail giant has acquired nearly a dozen start-ups to help broaden its online presence and developed @Walmart Labs, its Silicon Valley tech shop that has revamped the walmart.com website and mobile applications to make them more competitive with Amazon and other online retailers." Wal-Mart does not disclose its online sales, but Internet Retailer estimates they totaled nearly $5 billion last year. In comparison, Amazon posted $34 billion in online sales.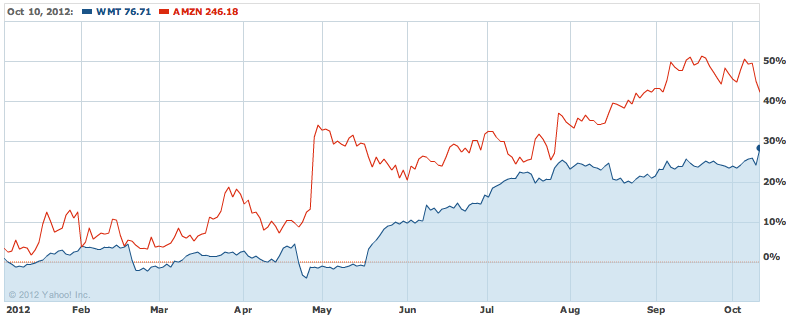 As the chart above shows, investors have been pleased with both companies this year. Wal-Mart shares are up nearly 30 percent year-to-date, while Amazon has gained 43 percent. However, on a basic valuation method such as the price-to-earnings ratio, Wal-Mart is the clear pick for investors deploying new capital, as it trades at 16 times earnings, compared to Amazon's sky-high 300 multiple. On Wednesday, shares of Wal-Mart hit a fresh all-time high near $77.
Wal-Mart also held its 19th Annual Meeting for the Investment Community. Mike Duek, president and chief executive officer, noted that "Wal-Mart is strong" and "getting stronger." He adds, "Our growth is strong, and we are winning customers and gaining share in almost every country in which we operate." Duke also believes that the recent investments made by Wal-Mart will position it to succeed in the short-term and long-term. According to Duncan MacNaughton, the chief merchandising and marketing officer at Wal-Mart, the company is already seeing a strong demand for the holiday season, and has ordered twice as many tablets and Apple (NASDAQ:AAPL) iPads as last year. In September, Wal-Mart announced it would no longer sell Amazon's Kindle product line at its stores.
Don't Miss: AMAZON: Swimming in the Moats of Others