Was Apple's iPad Air Launch Weekend a Flop?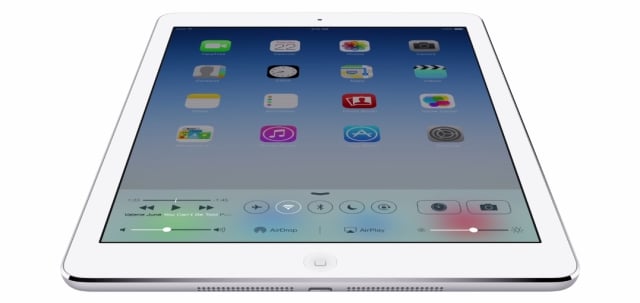 Apple's (NASDAQ:AAPL) latest iteration of its 9.7-inch iPad became available on Friday, November 1. However, several commentators have noted that many Apple Stores were lacking the large crowds that typically appear at every new Apple product launch.
The Inquisitr reported that most Apple Stores had "lackluster crowds" and plenty of stock after the initial morning rush from the "Apple loyalists." Similarly, the Los Angeles Times noted that there were only about two dozen people waiting in line outside the city's Beverly Center Apple Store location on Friday morning — instead of the usual "frenzy" that accompanies new Apple product launches.
On the other hand, Piper Jaffray analyst Gene Munster said that the lines outside Apple's flagship Fifth Avenue store were "slightly better than our low expectations," reports Barron's. However, according to the analyst's historical iPad launch line counts, the iPad Air launch generated the smallest crowd of any previous iPad launch. The iPad 2 launch in 2011 had the longest line, with 1,190 people, while last year's iPad mini/iPad 4 launch had the second-shortest line, with 580 people. According to Munster's count, the line at the Fifth Avenue Apple Store this year had only 365 people in it.
However, it should also be noted that the iPad Air is the only model that is currently available and the iPad mini with Retina display is expected to be the more popular of the new models. Munster believes that "60-65 percent of total iPad sales in a given quarter" will be from the iPad mini. According to Apple, the new iPad mini with Retina display "will be available later in November."
It is also unknown how many iPad Airs Apple is selling through its online store or how many sales will be added due to the inclusion of China in the launch weekend. Despite the relatively small crowds he observed in New York, Munster estimated that around "2.5-3.5 million" iPad units will have been sold over the launch weekend, reports Barron's. Last year Apple sold 3 million iPad units in three days when it launched two models simultaneously.
Although recently released third-quarter data from market research firm IDC showed that Apple has maintained its position as the No. 1 tablet vendor in the world, a nearly stagnant year-over-year growth rate has investors keeping a close eye on this year's iPad launch. Investors will have a clearer idea of how well Apple's latest flagship iPad is selling when the company reveals its weekend sales numbers on Monday, November 4.
Here's how Apple has traded over the past week.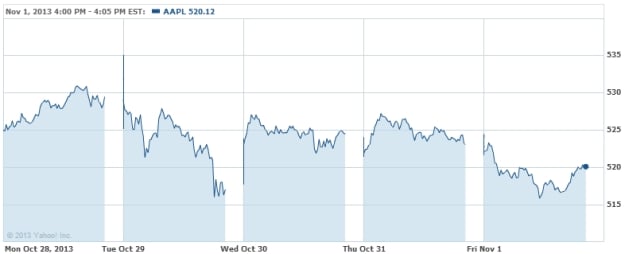 Follow Nathanael on Twitter (@ArnoldEtan_WSCS)
Don't Miss: Apple Phones a Rival to Help It Meet iPad Mini Supply.