Was Steve Jobs Inspired by Sony?
A recent talk by advertising guru Lee Clow revealed an interesting theory for how Apple (NASDAQ:AAPL) got its name. Clow is the Chairman and Director of the advertising agency TBWA\Worldwide and was the creative mind behind Apple's iconic "1984" commercial. Clow was also a longtime personal friend of Steve Jobs and met him when the Apple co-founder was just twenty-five years old.
At a recent PTTOW marketing convention, Clow shared his theory of how Jobs settled on the Cupertino-based company's name. Clow stated that Jobs "loved brands" and "grew up admiring Sony (NYSE:SNE)." He also notes that Jobs knew the story of how Sony co-founder Akio Morita created his company's name.
Sony was originally called "Tokyo Tsushin Kogyo," or the "Tokyo Telecommunications Engineering Corporation." Clow stated that Morita changed the company's name to Sony "because it was a charming, kind of fun, sunny, nice name." According to Sony's corporate history, Morita derived the name from the Latin word "Sonus," which means sound, and the word "Sonny," meaning "small boy."
"I believe the reason Apple is called Apple is a little bit aligned to that model," stated Clow. Clow also noted all the legends surrounding the origin of Apple's name, including that Jobs was a hippie that lived in apple orchards, or that he was inspired by eating an apple with Steve Wozniak in a garage. However, Clow dismisses these theories and thinks that Jobs intuitively knew that he needed a "non-threatening and likeable name" to offset the "scariness" and unfamiliar novelty of computer technology.
Interestingly, Clow never cites one of the most well-known origin stories of Apple's name. As a lifelong Beatles fan, many commentators have theorized that Jobs borrowed the Apple name from multimedia corporation, Apple Corps Ltd., that was founded by the members of the Beatles in 1968. In fact, Apple Corps and Apple have a history of trademark litigation that stretches across three decades. The trademark dispute started in 1978 and wasn't fully resolved until Apple bought the disputed trademarks from Apple Corps in 2007.
Apple closed up 0.76 percent, or $3.35, at $441.81 today. Here's how Apple has traded over this past week.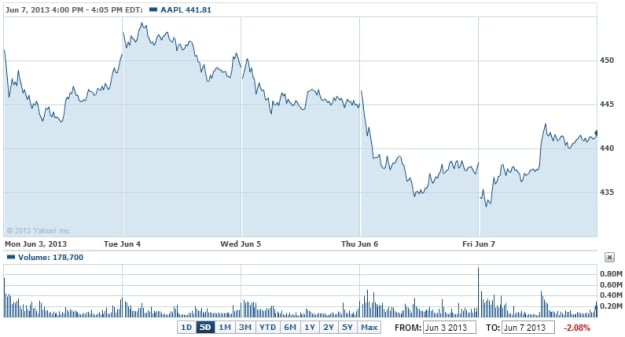 Follow Nathanael on Twitter (@ArnoldEtan_WSCS)
Don't Miss: Apple to Users: No Direct Government Access.