Misery loves company.  Today, misery received record low consumer confidence as its partner.  The Consumer Confidence Index dropped to its lowest level in two and half years.  The Conference Board reported that consumer attitudes fell to 39.8 in October, from an upwardly revised 46.4 in September.  Economists were expecting consumer confidence to come in at 46.
"Consumer expectations, which had improved in September, gave back all of the gain and then some, as concerns about business conditions, the labor market and income prospects increased," Lynn Franco, director of the Conference Board Consumer Research Center, said in a statement.
In a previous article, we discussed how investors and consumers were coping with record misery levels.  We found that companies such as Apple (NASDAQ:AAPL) and The Hershey Company (NYSE:HSY) provided strong portfolio returns, while also helping consumers deal with misery.  Now, we look at 6 stocks that are helping investors and consumers gain confidence.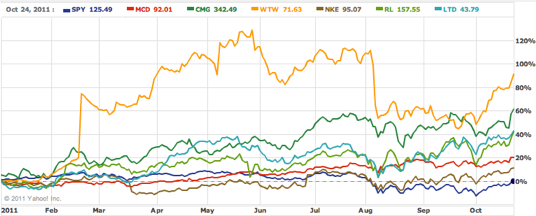 Think back when you were a kid, and the feeling that came from a fresh pair of kicks.  New spotless shoes are an instant confidence booster, even with adults.  Shares of Nike (NYSE:NKE) are up 11% this year.  Yesterday, shares reached a new 52-week high and currently pays a 1.3% dividend.  The company also received a new Buy rating from Auriga, with a price target of $110.
McDonalds (NYSE:MCD) may not seem like a confidence booster, but there is something about those hot delicious fries that solves everything.  Shares of this global giant are up 20% year-to-date, and reached a new 52-week high today.  To top off the menu, the company recently announced the return of the McRib, which will be available for all US locations through November 14.
Super Hot Feature: 5 Wall Street Crisis Films to Watch Now.
Shoes are only part of the wardrobe.  Shares of Polo Ralph Lauren Corp. (NYSE:RL) and Limited Brands, Inc. (NYSE:LTD) are both up about 40% year-to-date.  Shares of both companies hit a new 52-week high on Monday.  Limited Brands, Inc. was also recently added to Morgan Stanley's (NYSE:MS) top picks.
For those consumers seeking a healthier way to boost confidence than eating french fries, Chipotle Mexican Grill (NYSE:CMG) is a top choice for consumers and investors.  Shares of the fast-casual restaurant are up 59% for the year.  Last week, Chipotle released third quarter earnings.  Revenue increased 24.1% to $591.9 million, while net income increased 25.3% to $60.4 million.  The company also competes globally with Yum! Brands (NYSE:YUM).
Investing Insights: Chipotle Beat Competitors with Zero Debt Holding Down the Stock.
Staying with the healthier feel better trend, Weight Watchers International (NYSE:WTW) is having a stellar year.  Shares are up a whopping 94% per share year-to-date.  The company provides weight management services, and releases third quarter results on November 8 after the close.  For over 40 years, the company has helped millions of people around the world to lose weight and boost confidence.
Investing Insights: 5 Stocks Winning Despite Record Misery Levels.