What Can Google Now Really Do?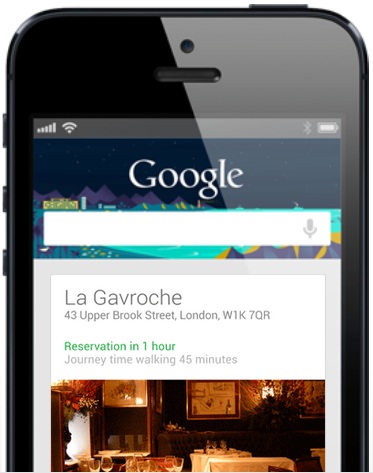 Though some have feared Google's (NASDAQ:GOOG) ability to anticipate users' wants and desires by analyzing search data, others hope the tech giant can make their lives easier with its Siri-like service known as Google Now. In fact, the service has already been doing its work on Android phones and offers a glimpse into its considerable potential for willing consumers.
For starters, Google Now is much more detailed and suggestive than any search history page seen on a web browser (it's currently only available on the mobile version of Chrome). User will find cards on the Now page that list different topics that have come up during the course of web forays. For a reviewer of Tech Crunch, that included a list of hotels based on one search, restaurants in the area where the locator positioned him and products for sale relating to recent research.
Is there a choice about how much Google Now knows about the habits of someone at the controls? Every user can choose to keep location out of the picture on the Settings menu for Now, plus keep the location unavailable to friends (who might be on Google's social media platform). The same feature web surfers have used to delete elements of a search history is available on Now, allowing everyone to present any desired image to the service. Privacy is still possible. For those who want to open up and let Google Now go to work, the prospects become more interesting.
Simon Hill's review in Digital Trends hinted of the full potential of Google Now. Users can identify their top areas of interest (foods, teams, and shopping items), select which type of cards (summaries and suggestions) they receive, and decide how to get notifications on all of the above. Once the system is working its magic for a few weeks, it will start suggesting numerous options it believes a user will find interesting (i.e. scores, shows and even people in the neighborhood).
Regarding its potential as an alternative to Apple's (NASDAQ:AAPL) Siri, Google Now serves as a virtual assistant as well. Users can let the program send alerts for appointments, dinner engagements, and other duties. Google Now can also answer questions out-loud that users ask directly into the phone. By asking a question about the title and artist of a song, Google Now will answer, show the album, and offer a link to buy it on the spot.
For anyone who wants an assistant but doesn't want the expense, or wants to research restaurants but doesn't have the time, Google presents a convenient solution. Users who want to stick to their own view of the world can simply continue the old fashioned way.
Don't Miss: Google Sets Sights On Amazon's E-Commerce Empire.