The Internet continues to evolve and impact how people spend their time. It is available twenty-four hours a day, seven days a week, but a remarkable amount of tasks are done in only a minute.
Intel (NASDAQ:INTC), a company that designs and builds essential technologies for computing devices, provides an interesting snapshot of how much is completed on the Internet in only 60 seconds. Almost 640,000 GB of global IP data is transferred. More than 200 million emails are sent, while 1,300 new mobile users become connected. With the rise of popular Apple (NASDAQ:AAPL) and Samsung (SSNLF.PK) gadgets, 47,000 app downloads occur in only a minute.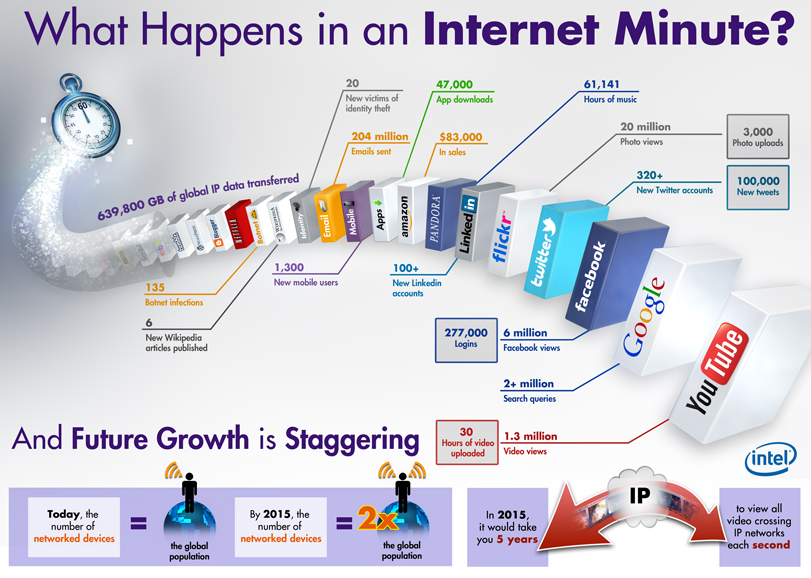 Well-known Internet companies also experience a heavy-amount of usage. Amazon.com (NASDAQ:AMZN) logs $83,000 in sales per minute, while Pandora (NYSE:P) plays 61,141 hours worth of music. Twitter, which recently turned seven years old, experiences 100,000 new tweets and more than 320 new accounts per minute. LinkedIn (NYSE:LNKD) signs more than 100 new accounts, while Flickr gets 20 million photo views. Facebook (NASDAQ:FB), the world's largest social-media company, receives 6 million views and 277,000 logins per minute.
This company is a force to be reckoned with…
Google (NASDAQ:GOOG), the king of search, receives more than 2 million queries per minute. However, video is also an impressive category for the company. Google's YouTube receives 1.3 million video views per minute, while uploading 30 hours of video.
Video continues to be a strong point for the Internet, and Google leads the way. According to comScore, a leader in measuring several aspects of the digital world, Americans are still viewing massive amounts of video online. The company recently announced that data from its Video Metrix service showed 178 million U.S. Internet users watched 33 billion online content videos in February.
As normal, Google Sites generated the highest number with 11.3 billion videos and easily logged the highest average engagement among the top ten online properties.
While shares of Google are up about 15 percent on the year, another hot tech company is lighting up trading screens…
Shares of Netflix (NASDAQ:NFLX) have more than doubled this year, making it the best performer in the S&P 500. The online streaming company continues to impress investors with new content deals and execution. Netflix has more than 33 million members in 40 countries. In 2012, the company added almost 10 million global streaming members.
On Tuesday, analyst Andy Hargreaves of Pacific Crest Securities increased his price target on Netflix from $160 to $225 per share, and maintained his Outperform rating. He believes Netflix can use its information advantage and content spending to drive subscriber growth more than expected. Hargreaves believes Netflix will now hit 46 million domestic streaming subscribers by 2015, up from his prior estimate of 43 million.
As seen in the Intel graphic, the trend is Netflix's friend. Today, the number of networked devices equals the global population. By 2015, the number of networked devices is expected to be double the globe's population.
Don't Miss: What Can Warren Buffett Teach Us About Cyprus?