What iPhone Hints Did Tim Cook Drop?
Apple (NASDAQ:AAPL) CEO Tim Cook addressed several questions related to the iPhone and iOS 7 at the All Things D conference in Palos Verdes, California, this week. Although the CEO was tightlipped as usual about any specific details regarding Apple's next generation of its flagship phone, he did drop several tantalizing hints about the general future of the iPhone.
After noting that Apple has several different versions of its iPod product, interviewer Walt Mossberg asked Cook why the company doesn't have a similar range in iPhones. Mossberg also wondered if the older iPhone models already functioned in the market as a "low-cost iPhone" option.
Although Cook acknowledged that Apple had indeed expanded the product lines for the iPad and Mac, he noted that each of these different iterations "serve a different person and need." Cook refused to give a straight answer, telling the interviewer via CNET: "On the phone that is the question. Are we now at a point where we need to serve other people?"
Some analysts have predicted that Apple will debut a low-cost iPhone in order to better compete in emerging markets like China, where the company's phone is at a price disadvantage when compared to cheap smartphones that use Google's (NASDAQ:GOOG) Android platform.
Cook also refused to tip Apple's hand regarding a possible increase in the iPhone's screen size. However, he noted that there were certain disadvantages associated with larger screen sizes, including a lack of "proper color, white balance, battery life, brightness of the display." The CEO said his belief that all of those factors should be weighed before any changes are implemented.
Although he was rather vague when answering questions about the style and sizes of future iPhone models, Cook gave more concrete responses while discussing iOS 7. He confirmed that Jonathan Ive, the Senior Vice President of Industrial Design at Apple, is now also in charge of the iOS 7 redesign project.
"We recognized that Jony [Ive] had contributed significantly to the look and feel of Apple for many, many years and could do that for software as well, and I think it's absolutely incredible," said Cook. He reiterated that new versions of iOS and OS X will debut at the Worldwide Developers Conference, or WWDC, next month.
Cook also indicated that Apple may soon increase developers' access to the application programming interfaces, or APIs, of its mobile operating system. Apple typically keeps a tight rein on third-party access to its software, ostensibly to protect users' security.
"On the general topic of opening up APIs, I think you'll see us open up more in the future, but not to the degree that we put the customer at risk of having a bad experience. So there's always a fine line to walk there, or maybe not so fine," said Cook.
Here's how Apple has traded so far this week.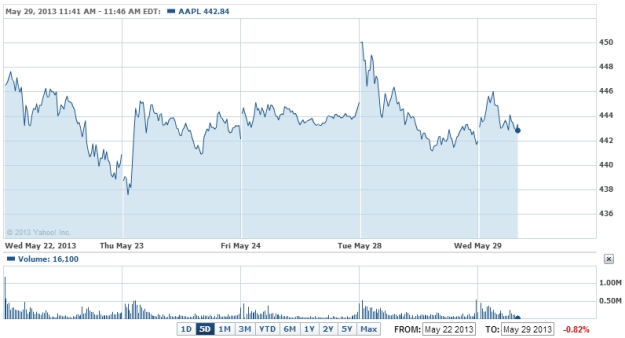 Follow Nathanael on Twitter (@ArnoldEtan_WSCS)
Don't Miss: Will This Apple Store Ruin Downtown San Francisco?