What Is Ballmer's Biggest Regret at Microsoft?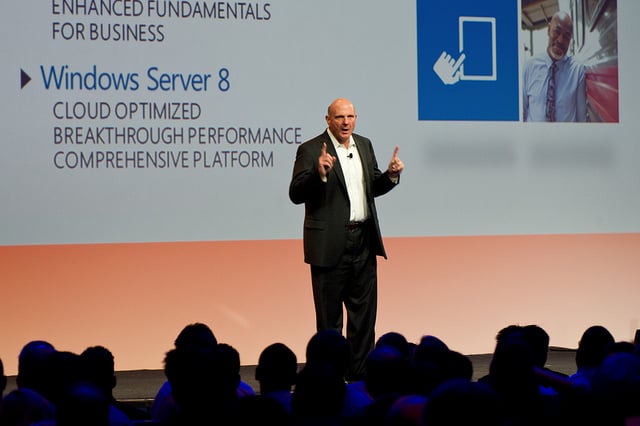 Microsoft (NASDAQ:MSFT) Chief Executive Officer Steven Ballmer told investors at a meeting on Thursday that his biggest regret during his time as CEO was missing out on "the new device form factor called the phone," according to a report from Reuters.
During the early 2000′s, while Apple (NASDAQ:AAPL) was busy at work on its industry-revolutionizing iPhone, Microsoft was too focused on its Windows software to see the opportunity it was missing, Ballmer said. While acknowledging his own mistakes during his time as CEO, Ballmer was also optimistic about the company's future. "We have the tools. There's economic upside here. In the long run, we are almost uniquely poised to seize the opportunity," he said during his presentation. "Today I'm speaking as an investor. You all own Microsoft stock, cheer for it, for God's sake."
Microsoft is planning to stick with Ballmer's restructuring plans, even though he made the surprise announcement last month that he will retire within a year. The restructuring has the company focusing more on devices and services, and top levels of it have already been completed. The reorganization is the biggest change the company has undergone in a decade, and will allow Microsoft to focus more on hardware, like the Xbox and Surface tablets, and Internet-based services, like the cloud-based version of Microsoft Office called Office 365.
According to Reuters, most of the four hours worth of presentations from various company executives focused on how the restructuring would be enacted. "It really was a fundamental shift from running a set of separate business units where we tried to make connection points to running a company that is essentially one integrated entity," said Ballmer on his restructuring vision.
Other big news that came out of the meeting were hints dropped that Microsoft's Office software could soon be available for the iPad, and a complete overhaul of how Microsoft reports quarterly earnings, which will be seen this October.
Despite Ballmer's regrets about missing out on the smartphone, Microsoft's recent acquisition of Nokia's (NYSE:NOK) devices and services unit could help the company gain back lost ground with its Windows Phones. Nokia's Lumia smartphones have been running on Windows since the company decided to scrap its outdated Symbian operating system, and CEO Stephen Elop, who will be joining Microsoft as a part of the acquisition, has been tapped as a favorite to replace Ballmer.
Follow Jacqueline on Twitter @Jacqui_WSCS
Don't Miss: How Much Will Nokia's Elop Make from Microsoft Acquisition?