What Trickery Did Sony Use to Get Past Apple?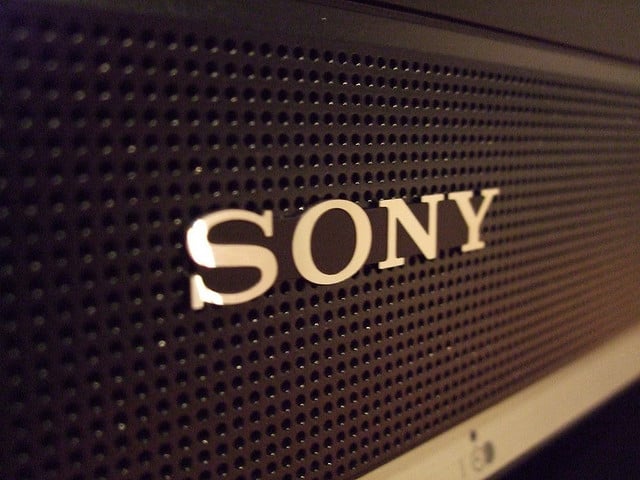 Apple (NASDAQ:AAPL) is losing Japanese smartphone market share to Sony (NYSE:SNE), thanks to a marketing blitz and discount program from NTT DoCoMo, the nation's biggest wireless carrier. Over the past four weeks Sony has increased its share of the mobile market from 14 percent to 36 percent, according to Tokyo-based researcher BCN Inc. reports Bloomberg.
Meanwhile, Apple's market share has slipped from 40 percent to 25 percent over the same time period. Wireless carrier DoCoMo has adopted the unusual strategy of focusing its promotions on only two handsets; Sony's Xperia and Samsung's (SSNLF.PK) Galaxy S4. Despite having over 60 million subscribers, DoCoMo remains the only carrier in the Japanese market that doesn't sell iPhones.
According to DoCoMo, the carrier sold approximately 630,000 of Sony's Xperia Z devices within the first six weeks of its introduction, helping to propel Sony to a three-year smartphone market share high. Although Sony's device seems to be benefiting from the promotion, Samsung sales in Japan continue to lag with only 13 percent of the handset market. Sharp, which makes the Aquos Phone Zeta handset, has seen its market share slip from 10.3 percent to 7.9 percent.
With DoCoMo's promotional discounts, Sony's Xperia can be purchased for as little as 5,000 yen, or about $53. Samsung's Galaxy S4 can be purchased for 15,000 yen, or approximately $160. Apple may also be at a pricing disadvantage because of the yen's continued decline against the dollar. The Cupertino-based company recently had to raise the prices on its iPod and iPad devices in Japan due to the weakening yen-dollar rate.
Sony may be big in Japan, but it's a different story in the worldwide smartphone market. According to market research firm IDC, Sony recently expanded its global smartphone market share from 3.9 percent in the final quarter of last year, to 4.5 percent this year.
Here's how Apple has traded so far this week.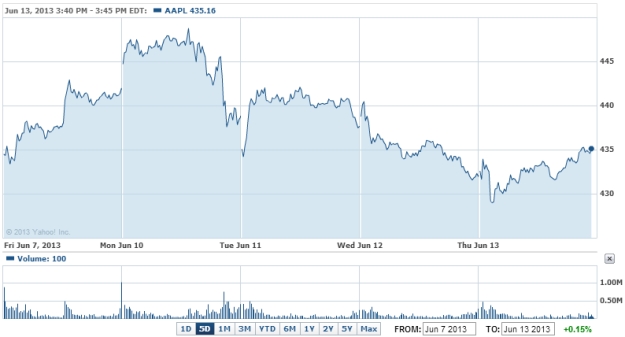 Follow Nathanael on Twitter (@ArnoldEtan_WSCS)
Don't Miss: Eddy Cue's Testimony Could Make or Break Apple in E-Book Trial.