What Would Elop's Microsoft Look Like?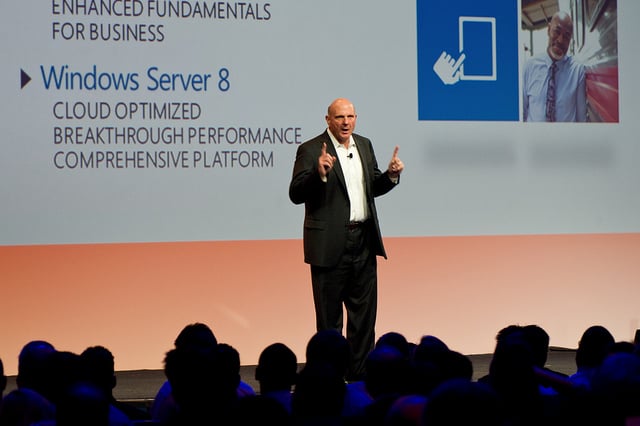 Earlier this week, reports started coming out that Microsoft Corp. (NASDAQ:MSFT) had narrowed down its CEO search to five candidates. Former Nokia Corp. (NYSE:NOK) CEO Stephen Elop, Ford Motor Co. (NYSE:F) CEO Alan Mulally, Skype head Tony Bates, Enterprise Software Chief Satya Nadella, and Chief Operating Officer Kevin Turner are the five people still in the running to replace current CEO Steve Ballmer, who will leave Microsoft by August.
Elop has been a rumored candidate for the spot since it was announced that he'll be returning to Microsoft after the company's $7.2 billion acquisition of Nokia's smartphone unit goes through. Elop was the head of Microsoft's Office division before becoming CEO of Nokia. Three people familiar with Elop's thinking have spoken to Bloomberg about what Microsoft might look like under his leadership.
Bloomberg's sources said that Elop would change Microsoft's policy of using its ubiquitous Office software to sell devices running on Windows and instead would make Office easily available for popular mobile devices running on operating systems from Apple (NASDAQ:AAPL) and Google (NASDAQ:GOOG). Such a strategy would give Microsoft increased software sales, as its own Windows Phones and Surface tablets haven't proved very popular among consumers. Elop believes this strategy would be more beneficial for Microsoft than forcing consumers who want or need mobile Office software to buy one of Microsoft's struggling devices.
Ballmer's current restructuring efforts have Microsoft focusing on improving its hardware sales over software, but it seems like that strategy would be reversed should Elop take the helm. Bloomberg's sources went on to say that Elop would also consider selling some of Microsoft's businesses in order to sharpen the company's focus on software, including its Bing search engine and Xbox video game console units.
Whoever takes the helm of Microsoft will need to help the company break into mobile computing in a big way in order to catch up with its rivals, as PC sales are expected to continue sliding. Elop's experience with Nokia's smartphones and Microsoft's Office software therefore make him a popular pick for the CEO spot.
Follow Jacqueline on Twitter @Jacqui_WSCS
Don't Miss: Here Are the Details of Apple's Huge Sapphire Deal.