What's Stopping Google TV?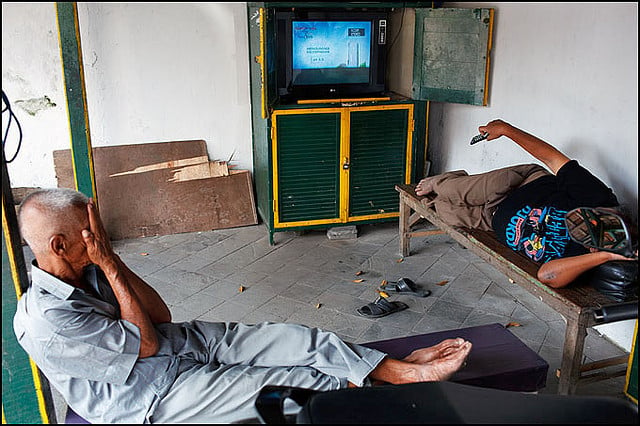 Google (NASDAQ:GOOG) is joining the flood of tech companies looking to create an online-based streaming TV service that would include traditional as well as on-demand programming.
Google throws its hat into the ring with Intel (NASDAQ:INTC), Sony (NYSE:SNE), and Apple (NASDAQ:AAPL), companies all looking to develop similar services. The major roadblock being faced now is acquiring programming rights. Traditional cable and satellite TV providers have to pay fees to media companies for the programming they show, which is reflected in the monthly bills customers pay for those services.
If Google and other tech companies secured the right to stream traditional programming via the Internet, it would alter the current TV ecosystem that cable and satellite companies are desperate to preserve.
Google hasn't commented on its plans, but a source told The Wall Street Journal that the company recently provided a demonstration of the product. The technology seems to be readily available for the services, but tech companies need to work out programming licensing to put it to use. The ability to offer a better interface for TV users than the ones currently offered by cable and satellite companies is one advantage tech companies have with their proposed services.
Streaming TV services like Netflix (NASDAQ:NFLX) and Hulu – which is jointly owned by 21st Century Fox, Comcast (NASDAQ:CMCSA), and Walt Disney Co. (NYSE:DIS) — have encountered less opposition because they only offer on-demand programming, and so compete less directly with traditional cable.
Media companies have shown reluctance to license programming to new Internet-based TV services like the ones proposed by Google and Intel, as they want to maintain the lucrative deals they currently have with traditional TV distributors. For now, it's unclear whether Google has cut any programming deals. That roadblock has been a problem for Intel's planned set-top box and Apple TV.
Meanwhile, Google has had a tough time breaking into the streaming devices market, currently dominated by Apple TV and, to a lesser extent, Roku, according to a recent Frost & Sullivan report. Apple TV has gained in popularity because of its AirPlay feature, which allows users to show content being played on a laptop or tablet on a TV screen wirelessly. The Frost & Sullivan report also mentioned that Google TV was conspicuously absent in that market, selling only around 1 million units.
Perhaps Google is just waiting to acquire programming rights before more aggressively marketing Google TV. Intel and Apple have both been in talks with media companies like Time Warner Cable (NYSE:TWC) and Viacom (NYSE:VIA), but no agreements have yet been reached. For now, the tech companies are scrambling to see who can work out a programming deal first.
Follow Jacqueline on Twitter @Jacqui_WSCS