What's the Buzz on the Steve Jobs Film?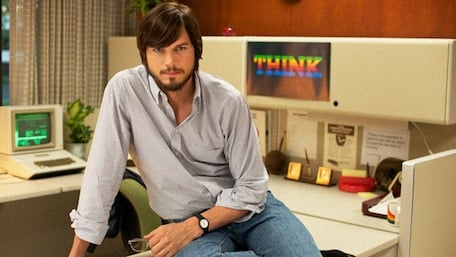 This weekend, the first of two feature films based on the life of Apple (NASDAQ:AAPL) co-founder Steve Jobs hits theaters. Jobs – starring Ashton Kutcher as Steve Jobs and Josh Gad as Apple's other co-founder, Steve Wozniak – was chosen as the 2013 Sundance Film Festival closing night film in January before arriving in theaters this week. The film is directed by Joshua Michael Stern and was made on an independent budget of about $8.5 million.
However, the film is not getting the kind of buzz its filmmakers and actors had hoped for, nor is it hitting any home runs with critics. Mark Olsen of the Los Angeles Times wrote in his review that "Jobs feels curiously out of touch with its subject, both as a man and regarding his impact," and Michael Phillips of the Chicago Tribune said, "Kutcher is everything except interesting." While Rotten Tomatoes only shows 24 reviews as of this writing, the film holds a 29 percent "Fresh" rating.
Forbes pointed out one interesting fact about the buzz the film is getting among non-critics: A new service from Rentrak called PreAct, which analyzes social media conversations about films, shows that while a lot of people are talking about Jobs, it doesn't seem to be the kind of talking the makers of the film would like. While the film scores an 89 out of 100 for the size of the conversation regarding Jobs, the film is only garnering a 4 out of 100 in terms of positive sentiment. That's a lot of negativity.
And the film's biggest critic at the moment might be one of the real-life characters that the film depicts: Steve Wozniak. In an interview with Gizmodo back in June, Wozniak said, "I have a little bug in me that says that this movie will portray Steve as a saint who was ignored, rather than one of the key people who led Apple through failure after failure."
Wozniak explained: "Jobs came back as the saint and god we now recognize and did then head the creation of other products as great as the Apple… But he was a different person, more experienced and more thoughtful and more capable of running Apple in those later years. We truly could have used the later Jobs in earlier years at Apple, is what I feel."
Wozniak also told the Los Angeles Times in July that "Steve never created a great computer. In that period, he had failure after failure after failure. He had an incredible vision, but he didn't have the ability to execute on it. I would be surprised if the movie portrays the truth."
Of course, even if we take Wozniak's word here, Kutcher recently pointed out to The Hollywood Reporter an important fact about the other Apple co-founder: "A couple things you have to understand. One, Steve Wozniak is being paid by another movie studio to help support their Steve Jobs film, so he's gonna have an opinion that is connected to that, somewhat," Kutcher said.
"Two, the biggest criticism that I've ultimately heard is that he wanted it to be represented — his contribution to Apple — fairly," he continued. "And, in all fairness, the movie's called Jobs. And it's about Steve Jobs and the legacy of Steve Jobs, and so I think it focuses more… on what his contribution to Apple was."
But despite all the negative vibes being thrown toward Jobs these days, there's at least one area where Kutcher and the film are getting a lot of positive press. On Sunday, Kutcher spoke at the Nickelodeon Teen Choice Awards and made a passionate speech pushing kids to focus on intelligence and ingenuity.  "The sexiest thing in the entire world is being really smart. And being thoughtful. And being generous. Everything else is crap!" he told the audience.
"Be smart. Be thoughtful. Be generous. Don't buy what the world is trying to sell you. Opportunity looks a lot like hard work. No job is beneath you on your path to success. Don't surrender to life as it is. Rebuild it for yourself and others," he implored.
By Monday, the speech was a viral hit on the Internet, and while there are those criticizing his film coming out this weekend, no one's taking the time to criticize his speech to kids.
And, finally, about that other Steve Jobs movie. Because of the release of Jobs, there seems to be no rush when it comes to the film, but the second flick has some serious heavy hitters involved, especially when compared to the independently made Jobs. Aaron Sorkin is set to write the film — he also penned the screenplay of the The Social Network – which is being adapted from Walter Isaacson's biography, Steve Jobs, for which the studio paid $1 million to obtain the rights.
The film will be coming from Sony Pictures (NYSE:SNE) and will be produced by Mark Gordon, Scott Rudin, and Guymon Casady.
Sony Pictures Entertainment co-chairman Amy Pascal said in a statement: "Steve Jobs' story is unique: he was one of the most revolutionary and influential men not just of our time but of all time. There is no writer working in Hollywood today who is more capable of capturing such an extraordinary life for the screen than Aaron Sorkin; in his hands, we're confident that the film will be everything that Jobs himself was: captivating, entertaining and polarizing."
Don't Miss: In Smartphone Wars, Samsung Bares Its Teeth with Anti-Apple Ads.