What's the Problem with Apple's New MacBook Pro?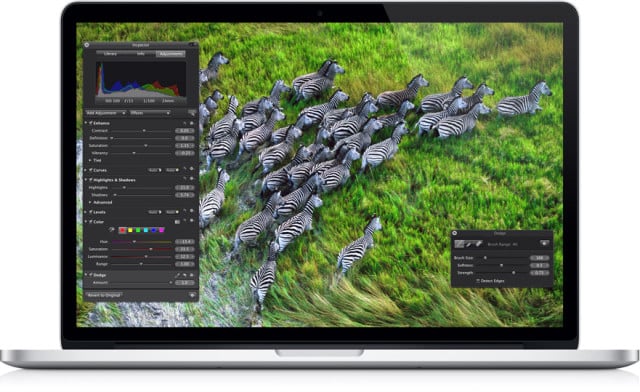 Only days after its release, Apple (NASDAQ:AAPL) users are reporting problems with the new MacBook Pro with Retina display. As first reported by Apple Insider, multiple users have complained on Apple's support forums about keyboard and trackpad freezes on the new MacBook Pros. The "New Retina Macbook pro 13 Haswell system hang/unresponsive" thread currently has more than 13,000 views and hundreds of replies.
Based on user comments found on Apple's support forums, the keyboard and trackpad freezes can only be resolved by restarting the computer via the power button. Several users noted that applications on the computer appear to still be running while the keyboard and trackpad are unresponsive. Other support forum users reported that the freeze issue first occurred while they were attempting a download.
While most users report that the only way to exit the system freeze was by rebooting, some have said that the MacBook Pro would unfreeze on its own after approximately 10 to 15 minutes of waiting. Others have also noted that resetting the MacBook Pro via the laptop's System Management Controller had no effect on the glitch.
While the cause of this problem is currently unknown, Apple Insider speculates that it might be a conflict between the new OS X Mavericks operating system and refreshed MacBook Pro hardware. Both the 13- and 15-inch models of the new MacBook Pros were updated with Intel's (NASDAQ:INTC) Haswell processors. According to Geekbench's performance scores, Apple's Haswell-powered MacBook Pro models outperform the previous generation of MacBook Pros by as much as 8 percent.
If the MacBook Pro freezing problem is related to the new Haswell processor, this may be the second hardware-related issue Apple users have encountered with the company's new products. Mobile application performance management company Crittercism reported earlier this month that apps are crashing on the iPhone 5S about twice as often as they do on the iPhone 5C. Crittercism CEO Andrew Levy speculated that the app crashes might be related to the new 64-bit A7 processor found in Apple's newest flagship iPhone.
Apple launched the new MacBook Pros alongside new iPads at a media event in San Francisco last week. "We've made the world's best pro notebook even better by adding more performance and even longer battery life," said Apple Senior Vice President of Worldwide Marketing Philip Schiller. "MacBook Pro with Retina display continues to redefine the pro notebook."
Follow Nathanael on Twitter @ArnoldEtan_WSCS
Don't Miss: Did Apple Commit a Design Faux Pas in iOS 7?