What's Your Old iPhone Worth?
How does the resale value of Apple's (NASDAQ:AAPL) iPhone models compare to that of Samsung's (SSNLF.PK) devices? That's the question Piper Jaffray's Gene Munster tried to answer when he commissioned a study of the auction prices of various iPhone models being sold on eBay (NASDAQ:EBAY) over an eight week period.
Besides monitoring the auction prices of the iPhone 5, 4, and 4S models, Munster also examined the auction prices on Samsung's Galaxy S III and Galaxy Note II. Munster wanted to compare the resale prices of Samsung's devices to Apple's, as well as determine if there was any "shift in preference/market share towards the Galaxy."

Based on his study of "the last 50 phones sold" each week on eBay, Munster concludes that "the iPhone is holding slightly more of its value compared to the top two Galaxy phones." The average resale price for an iPhone 5 is 46 percent higher than the resale price for a Galaxy S III. Munster also found that the iPhone held its value better, losing only 11 percent of its price compared to 13.7 percent for the Galaxy S III.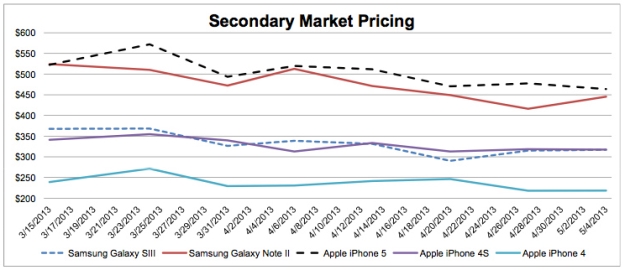 What does it all mean? Via Barron's, Munster states that "a rapidly decreasing secondary price for the iPhone would signal that existing iPhone owners are expecting a new version, or a shift in preference/market share towards the Galaxy. We believe that the iPhone aftermarket price should continue to decrease as we approach an iPhone 5S launch which we expect at the end of the month of September."
Although monitoring the secondary smartphone market for buyer trends is an interesting approach, it is also not clear how well this market reflects the intentions of consumers who purchase new phones. Apple users are an especially unique demographic of consumers since they already pay a premium price for Apple's comparably higher-cost products. However, Munster plans to repeat this study on a monthly basis in order to keep track of any smartphone consumer trends.
Here's how Apple has traded so far this week.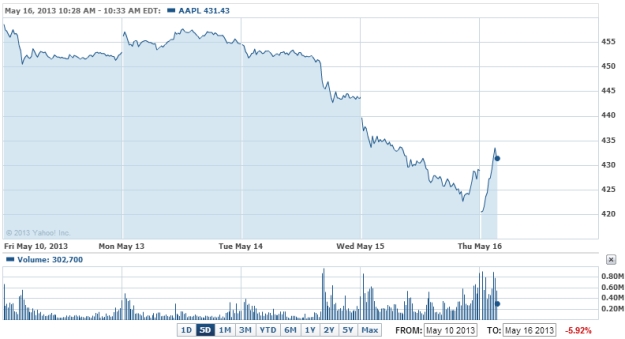 Don't Miss: Is Apple In Trouble Over Taxes?