Which Smartphone Maker Is Creeping Up on Samsung and Apple?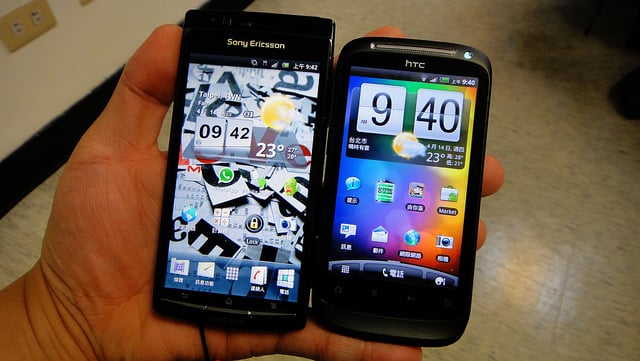 According to new research from Gartner, smartphones comprised 55 percent of total global mobile phone sales during the third quarter. The figure is an all-time high for worldwide smartphone share and an increase of 5.7 percent versus last year.
Mobile phone sales reached 455.6 million devices and smartphone sales made up 250.2 million of those units, with the Asia Pacific region accounting for the biggest growth. Smartphone sales in Asia grew 77.3 percent year-over-year, and feature phone sales in the region grew 11.9 percent. Western Europe showed an increase in overall mobile phone purchases for the first time this year, and sales in the Americas also increased.
"Sales of feature phones continued to decline and the decrease was more pronounced in markets where the average selling price for feature phones was much closer to the ASP affordable smartphones," said Anshul Gupta, principal research analyst at Gartner. "In markets such as China and Latin America, demand for feature phones fell significantly as users rushed to replace their old models with smartphones."
As for which companies sold the most devices, Samsung Electronics (SSNLF.PK) increased its lead over Apple (NASDAQ:AAPL) in the quarter, and Chinese electronics company Lenovo (LNVGY.PK) increased its smartphone sales 84.5 percent year-over-year to become the third highest-selling smartphone maker in the world.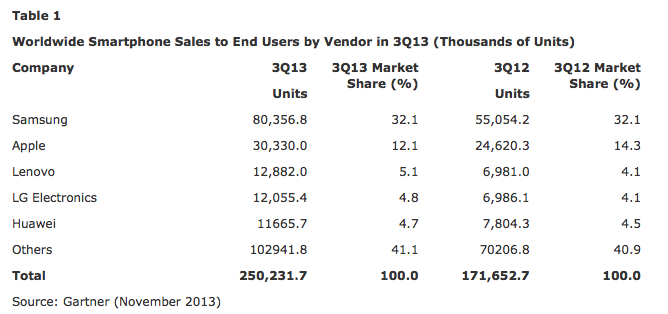 Despite Lenovo's huge growth, the company is too heavily focused in only selling to its home country, Gartner said. "Lenovo continues to rely heavily on its home market, which represents more than 95 per cent of its overall mobile phone sales. This could limit its growth after 2014, when the Chinese market is expected to decelerate," said Gupta said.
Samsung sold 80.356 million devices during the third quarter, which kept its market share flat at 32.1 percent. Gartner cited the released of the Samsung Note 3 as a reason Samsung was able to keep its hold on the No. 1 spot. Apple's market share fell a little more than 2 percentage points to 12.1 percent. Gartner noted that the release of the new iPhone lineup late in the quarter meant that Apple didn't see the full benefits from the iPhone 5S and iPhone 5C by the end of the quarter.
As for operating systems, Apple's iOS was again beaten out by Google's (NASDAQ:GOOG) Android, which had a whopping 81.9 percent market share for the third quarter. The iOS platform followed with 12.1 percent, and Microsoft's (NASDAQ:MSFT) Windows Phone came in third at 3.6 percent. Sales of devices running on Windows grew 123 percent during the quarter, and Gartner said it is optimistic about Microsoft's acquisition of Nokia's (NYSE:NOK) smartphone unit.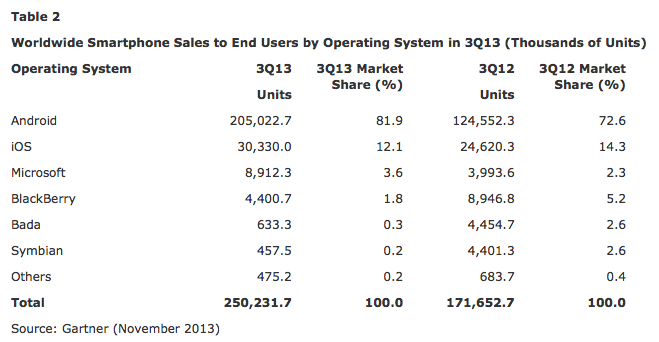 "However, the winner of this quarter is Microsoft which grew 123 percent. Microsoft announced the intent to acquire Nokia's devices and services business, which we believe will unify effort and help drive appeal of Windows ecosystem," said Gupta.
Overall, it looks like Apple and Samsung had better not get too comfortable in their top spots, as competition from both Lenovo and Microsoft seem to be heating up.
Follow Jacqueline on Twitter @Jacqui_WSCS
Don't Miss: Rumor: Apple's iWatch Design Different for Men and Women.