Who Wants BlackBerry's Z30?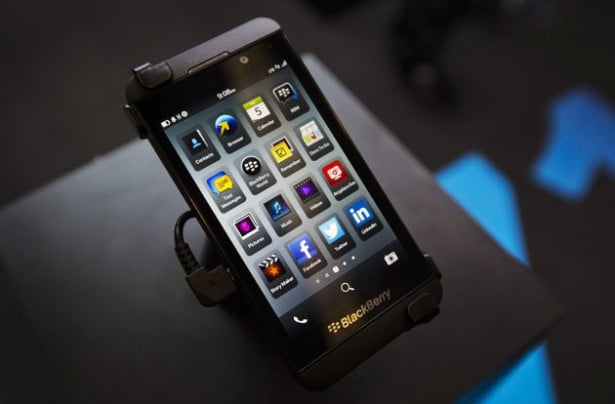 Verizon Communications (NYSE:VZ) says it will be the exclusive carrier to offer BlackBerry's (NASDAQ:BBRY) Z30 smartphone in the United States. The device will be available starting in November for $200 with a two-year contract.
According to a report from CNET, BlackBerry software head Vivek Bhardwaj spoke to reporters about the collaboration on Monday. While he tried to push the Verizon deal as being "exclusive," the phone is likely only being sold through Verizon because of lack of interest from other carriers. Bhardwaj said that BlackBerry could offer the device through other carriers if they asked for it and declined to comment further than saying, "We're not solely tied to Verizon."
BlackBerry's line of smartphones running on its BlackBerry 10 operating system have performed notoriously poorly, which has lead some carriers to not stock devices from BlackBerry at all. CNET said that Sprint Corp. (NYSE:S) had plans to carry one of BlackBerry's touchscreen phones but backed away from the deal, and T-Mobile US (NYSE:TMUS) announced at the end of September that it would no longer carry the devices in its stores. It's therefore unlikely that the Z30 will gain much interest from wireless carriers that seem to have already made a decision about BlackBerry's prospects.
Verizon apparently isn't putting much effort into marketing the devices, either – CNET reports it doesn't look as if carrier is rolling out any kind of special campaign for the phones. It's hard to blame Verizon for not pouring money into the new devices, as the Z10 smartphone was a complete flop that cost BlackBerry $1 billion in the fiscal second quarter.
Meanwhile, it's looking like BlackBerry is on the verge of a breakup. Vultures circling the company include co-founders Mike Lazaridis and Doug Fregin, former Apple (NASDAQ:AAPL) CEO John Sculley, Cisco Systems (NASDAQ:CSCO), Google (NASDAQ:GOOG), Cerberus Capital Management, and Lenovo (LNVGY.PK). A $4.7 billion deal from Fairfax Financial Holdings that would keep the company whole is looking less certain as days pass and shares trade below the offering price.
Bhardwaj said that BlackBerry's business problems aren't at the forefront of consumers' minds when purchasing a new phone, but since the Z10 proved so unpopular, success of the Z30 seems doubtful.
Follow Jacqueline on Twitter @Jacqui_WSCS
Don't Miss: SAP Doesn't Want BlackBerry.