Why Apple Needs Its New iPads to Dazzle Consumers

Ahead of Apple's (NASDAQ:AAPL) new product launch on Tuesday, research firm Localytics has released a report showing the current popularity ratios between Apple's available iPhones and iPads.
It's widely believed that Apple will be introducing a new iPad lineup at the event in San Francisco, including the iPad 5 and a second-generation iPad mini, possibly with Retina display. Both the iPads will likely have faster processors, longer battery life, and may even come in a variety of colors similar to the iPhone 5S. It's expected that the tablets will contain the fingerprint sensing technology found on the iPhone 5S, as well.
Localytics made an interesting discovery about the iPad, finding that the later generations don't seem to have too many differentiating characteristics that have led consumers to pay more for a newer version.
Apple's iPad 2 is the most popular iPad model, comprising 38 percent of all active iOS tablets, followed by the iPad 3, with 19 percent. The iPad mini only makes up 17 percent of Apple's active tablets, and the iPad 4 has just 18 percent. The most recent versions of the iPad only make up 35 percent of all iPads currently in use.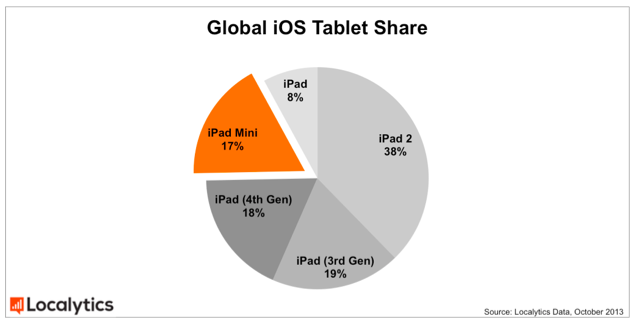 "This could be an indication that the innovation in tablets is slowing down and the perceived differentiation of the latest-generation tablets is getting smaller with each new release. That being said, a retina display could certainly be the trigger Apple is looking for to drive a major upgrade cycle," the firm said.
As for the company's new iPhone lineup, the 5S seems to be outselling the less expensive 5C in both the U.S. and emerging markets. While the ratio of iPhone 5C to iPhone 5S is down in the U.S. since the launch weekend, the gap has only widened in emerging markets, which is a surprising finding, as many analysts had expected Apple to use the device specifically to target Asian markets, where its expensive phones haven't been able to gain much market share.
During its launch weekend, the iPhone 5S sold 3.4 times more than the 5C in the U.S., but now that ratio is down to 1.9 times. That's less than the ratio globally, where the 5S is selling 2.3 times more than the 5C.
The iPhone results show that if Apple can add on enough desirable new features to its devices, then consumers are willing to pay top dollar for them, and that needs to be repeated with the new line of iPads. Apple clearly needs to dazzle consumers with some impressive new features on the iPad 5 and iPad mini 2 that people will be willing to pay extra for, otherwise consumers may default to choosing a less-expensive, older model.