Why Apple Needs to Replace Cisco on the Dow 30 Now
The famous 30-stock index called the Dow Jones Industrial Average (NYSE:DIA) still remains the most widely respected measure of the market. As I write this article, the Dow Jones Industrial Average is down 7% in the past 5 trading days. Yes, fear is high, but eventually overreactions stabilize. What exactly has been dragging down the Dow? Well, I noticed Cisco (NASDAQ:CSCO) is down over 9.96% in the past 5 trading days. Cisco's stock has been having a very dull year. The company's market cap has declined to $81.98 billion. Point blank, the DJIA needs a catalyst company.
What the Dow Jones Industrial Average really needs is Apple (NASDAQ:AAPL) in the index … right now. During the past 5 trading days, Apple's stocks is down only 4%. Apple is a strong $350 billion market cap company with ZERO debt on its balance sheet and plenty of future catalysts for more growth during the golden age of information and technology.
Meanwhile Cisco (NASDAQ:CSCO) has over $16 billion in debt on its books and not a catalyst in site. The company is actually cutting jobs to boost the bottom line, whereas Apple is not announcing job cuts. Now let's look at these two companies through the lens of our CHEAT SHEET investing framework:
C= 'Catalyst for a Stock's Movement' . Winner = Apple. See: Steve Jobs Prepares to Deliver a New Catalyst for Apple's Stock>>
H= High Quality Product Pipeline for Future Good News. Winner = Apple. The iPad, iPhone, iTunes, and Macs will keep Apple making money for a long time to come.
E= Equity to Debt Ratio is Close to Zero. Winner = Apple has ZERO debt.
A= A-Level Management. John Chambers vs. Steve Jobs. Winner = Steve Jobs. Steve has continued to innovate and has created what may become known as the most dominant consumer goods company in history.
T= Technicals on the Stock Chart are Strong. Winner = Apple.
Strong Chart (Apple):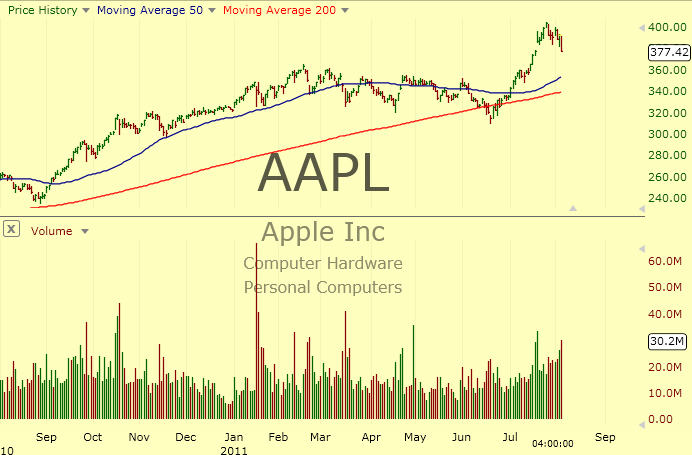 Weak Chart (Cisco):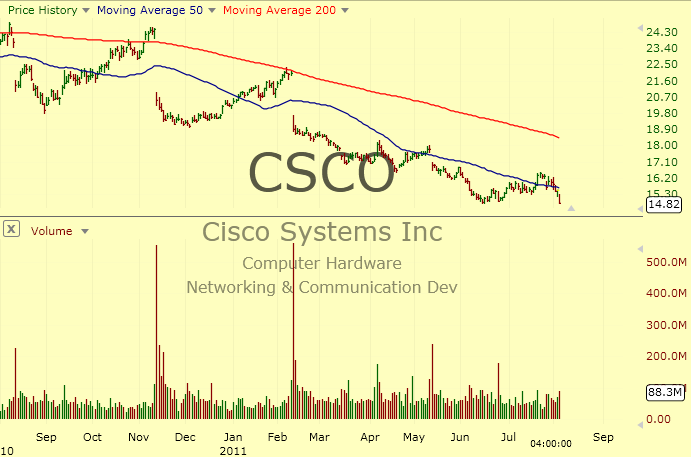 S= Support by Institutional Investors and Insiders. Winner = Apple.
H= Honest Accounting Governs the Company Books. Winner=Tie to both companies.
E= Earnings are Increasing Quarter-over-Quarter. Winner=Apple. Apple has now seen net income rise in three straight quarters. In the second quarter, net income rose 94.8% and in the first quarter, the figure rose 77.7%.
E=  Excellent Relative Performance Versus Peers and Sector. Winner=Apple
T= Trends Support the Industry in which the Company operates. Winner=Apple's iPhone and iPad are dominant in massively emerging markets for mobile smartphones and tablet computers.
Since February 2010, the CME Group (NASDAQ:CME) is the majority owner of the Dow Jones indexes. I ask the CME to consider replacing Cisco with Apple very soon. Next to Exxon Mobil (NYSE:XOM), Apple has the second largest market cap of any U.S. company. It's market cap is even greater than the market caps of Dow components Caterpillar (NYSE:CAT), Pfizer (NYSE:PFE), United Technologies Corp (NYSE:UTX), and Kraft (NYSE:KFT) combined. The case is clear for Apple to replace a dormant Cisco on the Dow Jones. Now, who's going to do something about it?
Apple and Cisco competitors to Watch: Dell Inc. (NASDAQ:DELL), Google Inc. (NASDAQ:GOOG), Microsoft Corporation (NASDAQ:MSFT), Adobe Systems Incorporated (NASDAQ:ADBE), Intl. Business Machines Corp. (NYSE:IBM), Intel Corporation (NASDAQ:INTC), Super Micro Computer, Inc. (NASDAQ:SMCI), and Nokia Corporation (NYSE:NOK), Hewlett-Packard Company (NYSE:HPQ), Juniper Networks, Inc. (NYSE:JNPR), Alcatel-Lucent (NYSE:ALU), Extreme Networks, Inc (NASDAQ:EXTR), Telefonaktiebolaget LM Ericsson (NASDAQ:ERIC), and Motorola Mobility Hldgs. Inc (NYSE:MMI).
Get Actionable Investing Insights: Check Out Wall St. Cheat Sheet's newest Feature Trades of the Month!