Why Is Apple Holding Back Some iWork for iCloud Privileges?

Apple (NASDAQ:AAPL) first announced the iWork for iCloud service at this year's Worldwide Developers Conference, or WWDC. The service allows users to access features of Apple's iWork suite through any browser and is considered the Cupertino, California-based company's answer to competing Web apps like Google (NASDAQ:GOOG) Docs. While the service was initially only available to developers, Apple recently expanded access to include some non-developers as it prepares to publicly launch the service this fall.
However, many users who were invited to try a beta version of iWork for iCloud have been unable to access Keynote, Pages, or Numbers. As reported by 9to5Mac, some users have received a message that reads: "Sorry… We've had an overwhelming response to … iCloud beta. Please check back soon. In the meantime, you can continue to store your spreadsheets in iCloud."
Although the unexpected popularity of iWork for iCloud may be a good sign for the future success of the new service, it inevitably raises questions about the reliability of Apple's iCloud. Several well-publicized iCloud outages this year have drawn attention to Apple users' increasing dependence on the service.
On the other hand, the purpose of beta releases is to discover and resolve issues like this before the service is officially released. It should also be noted that while users may be unable to access the iWork for iCloud service during this time, they should still be able to open their iCloud documents by using their own Mac or iOS versions of the iWork suite programs, 9to5Mac reports.
Although this service interruption is ostensibly due to the unexpected number of users, Apple's new data centers may help ease other iCloud outage issues. A massive data center located outside of Reno, Nevada, appears to be nearing completion. According to Apple, the data center there will "support Apple's iTunes Store, App Store, and incredibly popular iCloud services."
Here's how Apple has traded over the past five days.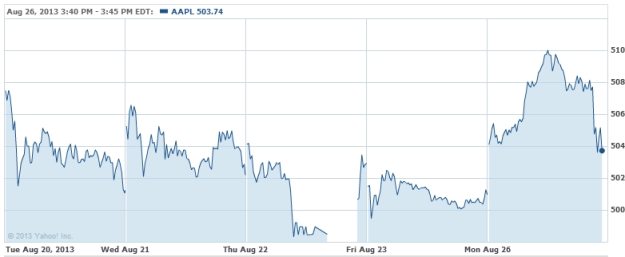 Follow Nathanael on Twitter @ArnoldEtan_WSCS
Don't Miss: Is the New Mac Pro Already Passé?