Why is Apple's iPhone Selling at a Snail's Pace?
Are competitor's cheap smartphone sales in emerging markets eating away at Apple's (NASDAQ:AAPL) growth? According to Strategy Analytics via Market Watch, Apple's iPhone shipments only rose 6.6 percent in the first quarter, which is the slowest rate of year-on-year growth in Apple's history. In contrast, Samsung's (SSNLF.PK) smartphone shipments rose 56 percent in the same quarter. Much of Samsung's growth can be attributed to the rapidly expanding Chinese market, which has become the world's biggest smartphone market.
Apple's slice of the worldwide smartphone market declined to 18 percent this quarter, from 23 percent in the same quarter last year according to data from research firm Strategy Analytics. Meanwhile, Samsung's share of the global smartphone market increased from 29 percent to 33 percent in the same period.
South Korean phone maker LG was a distant third place in the global smartphone market with a 4.9 percent share. Chinese smartphone manufacturer Huawei Technologies Co. took 4.8 percent of the total smartphone market, while ZTE Corp. took 4.3 percent reports Bloomberg.
Unfortunately for Apple, cheap to mid-range smartphone sales are the main drivers of growth in China's emerging market. Via Barron's, Strategy Analytics analyst Neil Mawston states "Apple's premium-only strategy for the iPhone is approaching a natural ceiling and it will need to expand deeper into large markets like China or launch a lower-priced iPhone model for mass-market users"…
However, the Cupertino-based company has historically focused on premium, higher-priced smartphones. Some analysts believe that Apple will soon launch a cheaper version of its iPhone. According to Topeka Capital Markets' Brian White via Apple Insider, Apple will announce the release of a cheaper version of the iPhone in June, in anticipation of a July launch date.
Despite the lower rate of shipment growth, Apple still increased in its total mobile phone sales from 9.3 percent to 10 percent. Apple shipped 37.4 million iPhones in the March quarter, compared to 35.1 million in the same quarter a year ago.
According to IDC statistics via Bloomberg, smartphones accounted for 51.6 percent of total worldwide mobile phone shipments in this quarter. This marks the first time that smartphone sales outperformed sales of traditional mobile phones.
Here's how Apple finished trading this week: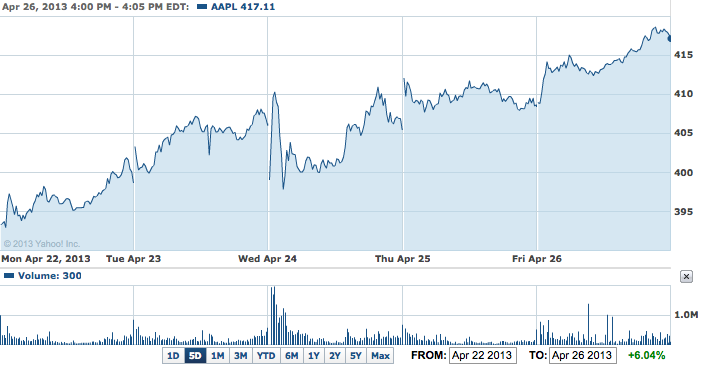 Don't Miss: Apple vs. Amazon: A Tale of Two Valuations.