Why is Carl Icahn Meeting Apple's Cook?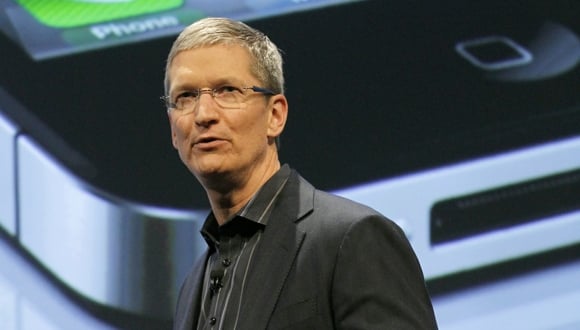 A little over a week after disclosing that he has a "large position" in Apple (NASDAQ:AAPL), billionaire investor Carl Icahn dropped another bombshell tweet. "Spoke to Tim. Planning dinner in September. Tim believes in buyback and is doing one. What will be discussed is magnitude," tweeted the activist investor on Thursday.
Icahn's latest revelation suggests that the Apple share buyback that he has been pushing for is already a done deal and that only the size of the buyback needs to be decided. According to the Wall Street Journal, Icahn has a stake valued at more than $1.5 billion in Apple.
Last week, Icahn told Reuters that he believes Apple has the potential to trade at the $700 level that it reached last September if it funds a $150 billion buyback with funds borrowed at 3 percent. "If Apple does this now and earnings increase at only 10 percent, the stock — even keeping the same multiple currently — should trade at $700 a share," stated the activist investor.
Icahn also noted that the Cupertino-based company has "huge borrowing power, little relative debt and trades at a low multiple," reported Reuters. Although an increase in Apple's share buyback program may boost the stock, the news did little to help Apple's bonds.
According to MarketAxess data cited by MarketWatch, Apple's 10-year bond spread had widened to 92 basis points by August 20. Apple's 10-year bonds were originally issued at 75 basis points.
Since Icahn disclosed his position in Apple on August 13, the stock has increased by over 2 percent. Apple closed at $502.96 on Thursday, approximately 10 percent higher than its price at the beginning of the month.
Here's how Apple has traded so far this week.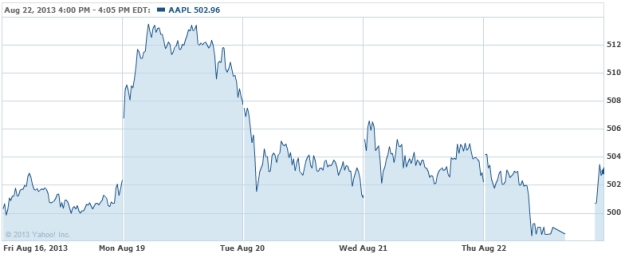 Follow Nathanael on Twitter (@ArnoldEtan_WSCS)