Why is Cramer Ranting Against Apple's Management?
Just one day ahead of Apple's (NASDAQ:AAPL) second-quarter earnings release, Matthew Panzarino of tech news site The Next Web, tweeted the message "Fire Tim Cook!" His reasoning was a little skewed as he included a link in his tweet to a couple charts showing the steady upward momentum of Apple's revenue and profit over the last few years, for most of which the company was led by none other than Tim Cook. But this particular line of thinking has not exactly been wiped away by the iPhone maker's better-than-expected results. After all, Apple did post its first quarter-over-quarter earnings decline in a decade.
On Tuesday, Apple reported earnings per share of $10.09 and revenue of $43.6 billion, compared to average expectations for earnings of $10.00 per share on revenue of $42.33 billion. Still, CNBC's Jim Cramer said on "Squawk on the Street" Wednesday morning that analysts are revolting against Apple Chief Executive Officer Tim Cook as the company's "graphically painful" conference call made clear…
While he noted that "given the fact that tech stocks have bottomed at a certain yield, it is possible that they could put in a floor soon," he added that Apple's management is "now despised." In his opinion, the conference call was a revolt against management because the current situation is one in which management is in complete denial. "What people wanted was some growth, what people wanted was new products and what people wanted was a change of discourse."
As Cramer's rant suggested, the language used by management during the earnings call did not match the company's current reality, at least the reality seen by Apple analysts. "The conference call is just a great Greek tragedy to me, The chorus is saying: 'Look, you're not as good as you think you are, so you can't charge what you used to,'" he said. "It was a graphically painful conference call, because [the analysts] don't like Tim Cook."
The criticism that Apple has lost its innovative touch has fallen fast and furious on the company recently. While it has long been seen as a company capable of creating one category-defining product after another — and in fact, Apple built its reputation on that type of creativity — analysts have put forward the thesis that founder Steve Jobs' absence can be seen in the company's product pipeline, which is populated by nothing but product refreshes, according to their assessments, and will likely curb growth in future quarters. Many analysts have cited this change as a reason for the stock's poor performance of late…
During the earnings call, this criticism resurfaced. Following the earnings call, analysts penned a library-sized stack of notes, many of which exemplified just what Cramer opined. According to Fortune, Bernstein's Toni Sacconaghi wrote that Apple executives stated twice that they expected "exciting" new products "in the fall" and "throughout 2014." To him, that promise suggested "that FY Q4 could potentially be very weak as well, depending on the exact timing of new product announcements" and pointed "to a possible overhang on the stock through earnings next quarter."
Even more to the point was a comment made by Global Equities' Trip Chowdhry. He wrote "investors are wondering if Apple is Sugar coating lack of innovation following Steve Jobs death, with borrowing money to do Share Buyback and Dividends," referencing Apple's plan to increase its stock-buyback to $60 billion and modestly raise its dividend to $3.05 per share.
Innovation is hard thing to demand, but Cramer had some advice for Cook. "Go social, mobile and cloud and make a series of very large and noisy acquisitions that would change the course of Apple so that they don't need to go through cable to own the living room," he said. By large and noisy acquisition, he meant Sprint (NYSE:S), Netflix (NASDAQ:NFLX), or Dish Network (NASDAQ:DISH).
Here's how Apple (NASDAQ:AAPL) traded today: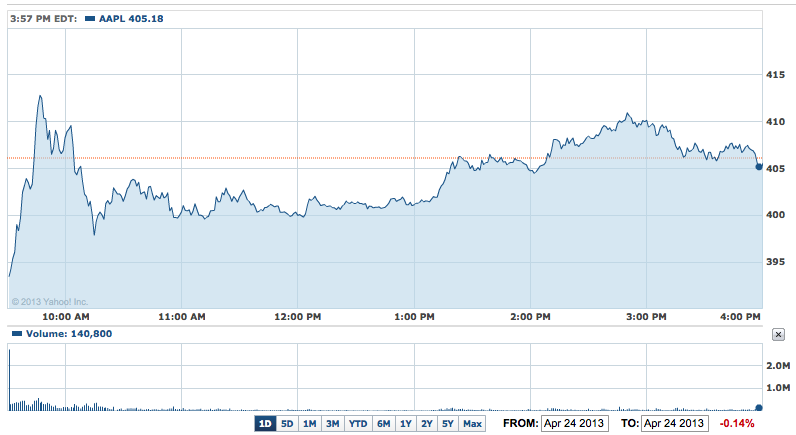 Don't Miss: Here's Your Cheat Sheet to Apple's Buyback Program.