Why is Doug Kass Changing His Tune on Apple?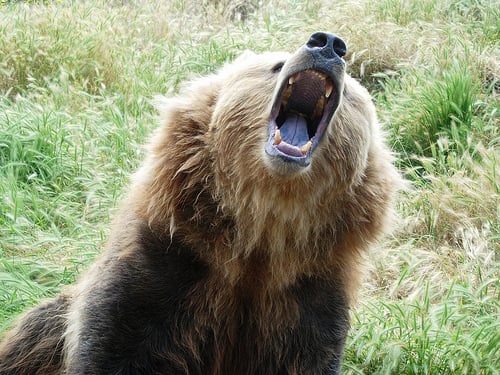 Renowned Apple (NASDAQ:AAPL) bear Doug Kass has recently changed his tune on Apple stock. Kass is perhaps most famous for advocating a bearish approach to Apple right before the stock plunged from its $700-plus high in September 2012. However, Kass now believes that Apple is a "long purchase," as the investment reward has begun to outweigh the risk.
Via The Street, Kass states that Apple's "consensus sales and earnings expectations have been reduced dramatically and have now grown more realistic." With a consensus that more accurately reflects the actual value of the stock, Kass now believes that this is a good time to invest in Apple. He thinks the stock could go as low as $400 or as high as $525 over the next six to 12 months.
Although Kass credits Greenlight Capital's (NASDAQ:GLRE) David Einhorn with helping to push Apple to return more capital to shareholders, he still believes that Apple's profits will remain flat for the next couple of years. Kass told CNBC that he expects "little growth, likely between $35 and $45 a share." However, Kass also believes that Apple's free cash flow will benefit investors, as the cash will enable Apple to continue its buyback program and associated dividend increases.
Kass's prescient Apple stock forecast in September of last year is not the only Apple prediction that he has made. In January of this year, Kass predicted that "tech stocks (in general) and Apple's stock (in particular) will sell off after Senator Levin's subcommittee finds that companies have avoided huge amounts of U.S. taxes in offshore tax havens."
Although Kass was accurate about the occurrence of a Senate hearing on tax, he was not right about a "sell off" in Apple or tech stocks in general. Kass even credited CEO Tim Cook with a "TKO" win at the Senate hearing on CNBC yesterday.
However, nothing proves a change of heart like putting your money where your mouth is. Yesterday Kass admitted that he bought some Apple stock at $443.65 for the "first time in a long time." Here's how Apple stock has traded since its peak in September 2012.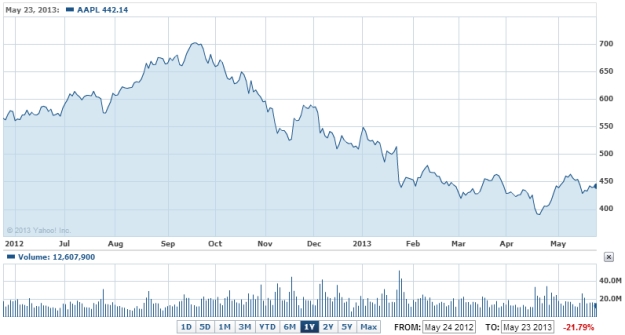 Follow Nathanael on Twitter (@ArnoldEtan_WSCS)
Don't Miss: Is This a Colorful Glimpse of the Low-Cost iPhone?