Wilbur Ross: Apple is 'Silly' With Excess Cash
Billionaire investor Wilbur Ross recently shared his views on Apple (NASDAQ:AAPL) during an appearance on CNBC's "Fast Money" show. After noting that both Carl Icahn and Legg Mason's Bill Miller recently called Apple a "no-brainer" investment, "Fast Money" host Melissa Lee asked Ross for his opinion on Apple stock.
"I'm not absolutely sure that no-brainer trades exist. I have a tough time finding no-brainer trades. There's usually a reason why somebody's on the other side," stated Ross. Although Ross said he wasn't "intimate enough with the company" to know exactly what it should do with its large cash reserves, he did think Apple "should do something with the excess cash."
"I do think it's a little silly to sit with that much cash," said Ross. "And I recognize a fair amount of it is overseas and there's a whole tax problem with bringing it back. But surely they can find some clever way around it."
As noted by Apple CFO Peter Oppenheimer in an analyst conference call earlier this year, repatriating the company's overseas cash "would result in significant tax consequences under current U.S. tax law." In fact, Apple could face a corporate tax rate of 35 percent under current U.S. tax laws if it brought its estimated $142 billion cash into the U.S.
However, Ross also noted that Apple's recent bond offering appeared to be the company's indirect method of repatriating its overseas cash. Apple sold an unprecedented $17 billion in bonds in April of this year.
Billionaire investor Carl Icahn met with Tim Cook earlier this week and pushed the Apple CEO to fund a $150 billion buyback with funds borrowed at 3 percent. According to Icahn, they will "continue dialogue in about three weeks," reports Bloomberg.
Here's how Apple traded over the past five trading sessions.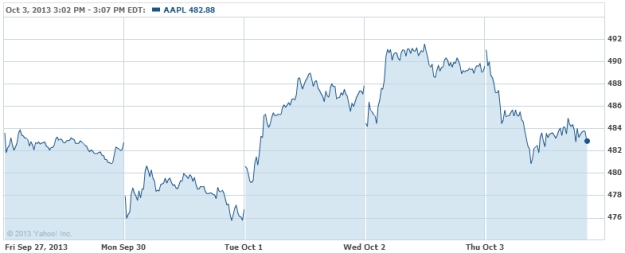 Follow Nathanael on Twitter (@ArnoldEtan_WSCS)
Don't Miss: Analyst Offers iPad Predictions for Rumored October Launch.