Will a New Version of This Apple Product Debut at the WWDC?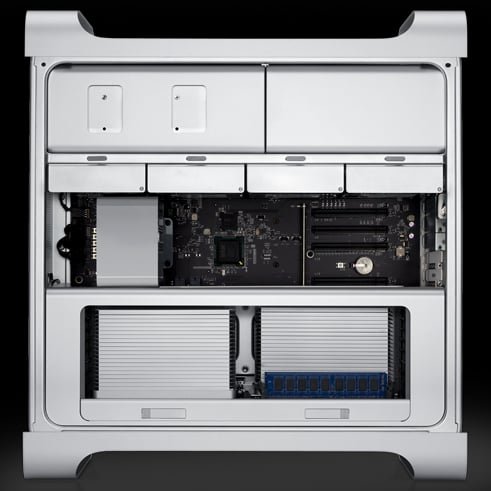 Does a shrinking Mac reseller inventory indicate that Apple (NASDAQ:AAPL) is preparing to debut new Macs at the Worldwide Developers Conference?  A reduction in product stock for third-party vendors often indicates a hardware production cutback from Apple, which in turn can be a sign that the company is preparing to launch a new iteration of a product.
J. Glenn Kunzler at MacTrast did some retail stock level investigation and discovered that many resellers were either completely sold-out or had very limited numbers of Apple's Quad-Core Mac Pro 2012. This entry-level model usually retails for around $2,499. However, other models of the Mac Pro appeared to be available at most resellers.
According to Kunzler, the entry-level Mac is out of stock or backordered at seven major Apple resellers including Adorama, Amazon (NASDAQ:AMZN), B&H Photo, CDW, J&R Electronics, MacMall, and PowerMax. Three additional resellers had "very limited stock," including Best Buy (NYSE:BBY), Frys.com, and MicroCenter.
Only MacConnection and the official Apple Online Store seemed to have normal levels of stock. The author also verified that the brick-and-mortar Apple Stores in several major cities had in-store stock.
Besides the telltale reductions in third-party vendors' stock, there have been other indications that Apple may be about to refresh the Mac Pro line. Renowned, but notoriously cryptic Apple product seer Jim Dalrymple seems to believe that a new Mac will likely be unveiled at this year's WWDC.
Via his blog, Dalrymple states, "I would look squarely to the Mac side of Apple's product line. The Mac is still an important part of what Apple does, but I don't know that Apple would hold a special event specifically for a Mac product anymore. If they did, it would have to be quite a spectacular product. For me, the Mac products fit well with a Tim Cook keynote at WWDC. That's all I really expect from Apple in the way of hardware at the conference."
There have also been hints from Apple's own CEO. In an email posted on MacRumors last year, Tim Cook states, "Although we didn't have a chance to talk about a new Mac Pro at today's event, don't worry as we're working on something really great for later next year."
Apple closed up 0.22 percent, or $0.99, at $450.72 on Monday. Here's how Apple has traded over the past 5 trading sessions: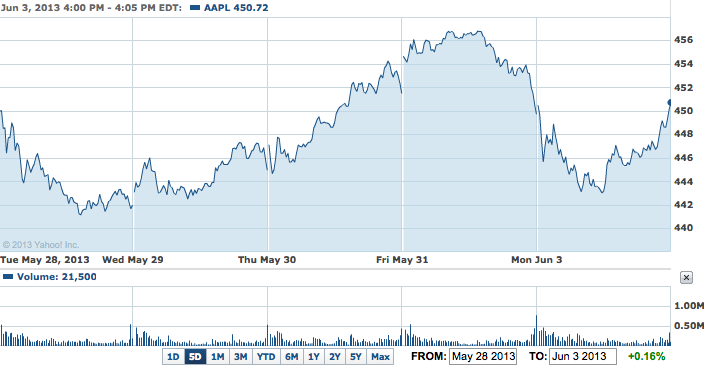 Follow Nathanael on Twitter (@ArnoldEtan_WSCS)
Don't Miss: Did This Supplier Reveal the iPhone 5S Launch Date?