Will Apple Come Crawling Back to Samsung?
The thin glass market in Korea is booming thanks to demand for products from Apple (NASDAQ:AAPL) and Samsung (SSNLF.PK) that feature LCD displays. However, industry insiders believe that the growing demand for this essential thin display material has also forced Apple to increase its reliance on supplier and rival Samsung.
Korea-based IT news website ETNews reports that the Korean thin glass industry is expected to hit $464 million this year, which is a 34 percent year-over-year growth. This is also a 134-percent increase over sales in 2011, when the manufacturing process for thin glass was first introduced on a wide scale. ETNews notes that there are very few alternative thin glass sources outside of Korea, and that Samsung Display has multiple thin glass vendors.
Although Apple has long relied on Samsung to supply various components for its iPhone and iPad products, the Cupertino-based company has recently been trying to reduce its dependence on its rival for displays and other parts. But now, the growing demand for thin glass has temporarily pushed Apple into a closer alliance with its smartphone rival.
One alternative display supplier is AU Optronics (NYSE:AUO), which has reportedly been certified by Apple for LCD panel production. However, rumors have also been emerging that the manufacturer has recently run into production problems that are causing delays.
Thin glass is used in Apple's iPhone, iPad, and MacBook products. Samsung primarily uses the material for its Galaxy S series of smartphones. Chipmaker Intel (NASDAQ:INTC) has also begun to use thin glass for its Ultrabook displays.
Apple has been trying to diversify its supply chain away from Samsung ever since the two companies began suing each other in multiple patent infringement trials. Many analysts believe that Apple is concerned that Samsung may be acquiring proprietary Apple product knowledge by supplying the company's components. There are also concerns that Samsung might one day want to strategically cut Apple's supply chains as worldwide competition continues to heat up between these two rivals.
Here's how Apple traded today: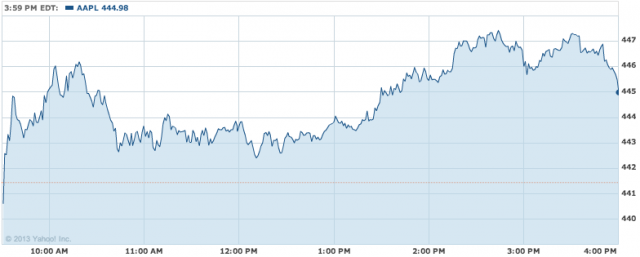 Follow Nathanael on Twitter (@ArnoldEtan_WSCS)
Don't Miss: Wet iPhones Are Giving Apple a Cold.